Summer a success says Simons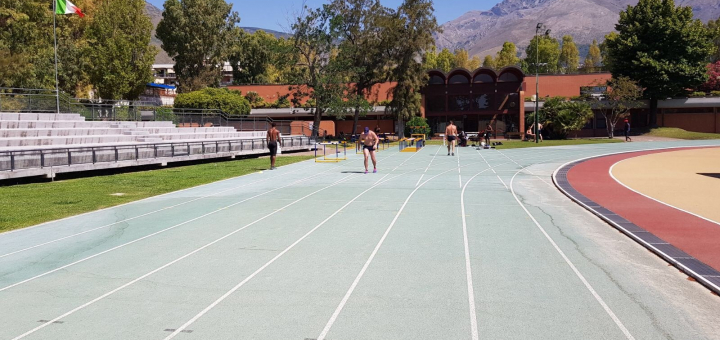 With the new season now firmly on the horizon, GB Bobsleigh brakeman Ben Simons says the squad's summer camp in Italy has proved the perfect preparation on the path to Pyeongchang.
Simons and the rest of the men's team travelled to Formia for a week of intense speed and strength training before heading to Sestriere for their first on-ice sessions since the end of the last campaign.
And, with everything geared towards getting the most out of their time away ahead of a hugely important six months prior to February's Winter Olympics, Simons insists things couldn't have gone any better on their Italian adventure.
"The Formia facility is the best I've ever experienced on a training camp," said Simons, who has been part of the GB set up since 2012, having previously won international honours for Wales in athletics.
"For me personally, it was quiet an interesting experience going back to central Italy because my Granddad came from that region and I spent every summer there while I was growing up before he passed away in 2010. Usually it feels quiet alien going to foreign lands but this was really homely and I enjoyed that.
"Everything was in one place and it was in beautiful surroundings - it was in the former gardens of the last king of Italy and his palace was across the road, with the beach just beyond that.
It was an ideal environment to get the best out of us: you'd wake up in the morning and walk across the lawn, past the athletics track and straight into breakfast; then you'd be on to the track straight after; and after that you'd be within a few feet of the hydro and recovery area, where we also had physio treatment and massage set up.
"Having all the recovery aids literally just off the training track meant that you could get everything you needed to get done very quickly - there was no waiting and there was nothing getting in the way. Everything was aimed solely around training.
"It was all so convenient. I didn't spend one minute in a vehicle in that first week. It sounds like a small thing but a lot of athletes will tell you that travel can be one of the most detrimental factors around training camps.
"The weather also meant that any sprint work we did outdoors was very good quality. And that was the aim of that first week - to maximise our physical training. We got some very good quality speed work in; lifted pretty well; recovered well and then took that into the next week on the ice track in Cesana."
The setting and the facilities in Formia were first class
Getting out on to the ice as early as July was a huge boost according to Simons. Not having an ice track here in Great Britain leaves the team at a distinct disadvantage when it comes to competing with the world's best and the aim is always therefore to give them as much quality time on foreign tracks as possible prior to the start of the new season.
Often that hasn't been possible until the early autumn but the time spent at the push-start facility at the 2006 Olympic track in Turin means Simons and co now feel ahead of the game as they get set for arguably the most important few months of their sporting careers.
"Being able to get on ice that early in the year was great. Last year we were on ice around the same time but that was the first time since I've been involved that we'd been able to do that. Previously we've used Sigulda in Latvia and that wouldn't be any earlier than September or October," added the 29-year-old.
"It gives you a chance to really nail some of the technical work and familiarise yourself with the ice. The push track facility here in Bath is fantastic but it is slightly different when you get on ice.
"We can do the vast majority of what we need to do on our start facility in Bath because it is so good, but there is that extra percent or two that you need on ice. Especially in Olympic year, it's very important to get as specific as possible. It's also very important for the focus to be solely on pushing. That's unusual in the normal periodised training week - we pushed for two sessions a day in Italy and you wouldn't usually push that many times in the UK.
"I got technically better while I was there. I was able to tidy things up and it was great to work with Dominik (Head Coach, Dominik Scherrer) and to get into crews while we were there. Even for someone who has been involved in the sport as long as I have, there are still things to work on. In a sport like bobsleigh where the difference between being on the podium and missing out on the top 10 are factions of a second, those small improvements can be vital.
"We've brought those technical lessons back with us and we've taken them into our daily training. That now becomes a focus back here at the push track. Being in an ice environment also brings you a bit more into race mode and that's something that will stick with us."
Getting back on ice during the summer has huge benefits
Simply being away as a team in a different environment also had major plusses for Simons and the rest of the squad as bobsleigh became the one and only focus throughout the fortnight.
"Although we train full time, there can always be distractions to a small degree as life gets in the way. That's taken out completely when we're away on camp. There were no outside influences or distractions so you put absolutely everything into your training.
The environment was good with the group: everyone got on well and there was healthy competition.
"It's a good group here and I think that surprises a lot of people because you've got a lot of big characters, there's a lot of testosterone flying around among some big, strong blokes competing against each other, but the environment is very good. It's friendly competition and that drives everyone forwards."
Forwards is certainly the trajectory Simons sees himself following this summer.
Having struggled with injury in recent seasons and spent time doubling up as a pilot on the Accelerated Driver Programme and as a push athlete, Simons is now solely concentrating on being the best brakeman he possibly can be, and he's already feeling the benefits.
"I don't want to jinx myself but I haven't returned to start the season with a serious injury this year. That's probably due to the lower volume of the season being a brakeman, where you don't have to do as many runs, and I was able to look after myself better.
"It's been quite refreshing and has been a bit of a weight off my shoulders, being able to concentrate solely on pushing. Juggling the two was probably too much for me physically.
"It's super competitive as a brakeman. We've got some absolute specimens and there are great athletes everywhere, but I relish that. It pushes me on. I'm a much better athlete because of the people that I have competed against in this sport over the last five years and I'm determined to keep on getting better in what is a big, big year for us all."
To view the photo gallery from the Italian summer camp, click here