Spirits high for World Cup opener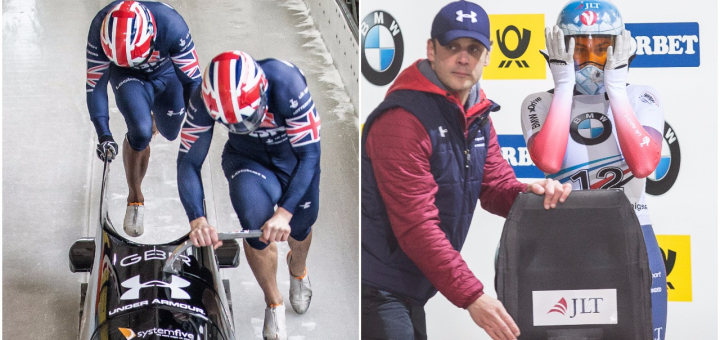 Great Britain's Bobsleigh and Skeleton teams will be looking to get their final Olympic preparations off to a flying start when the World Cup season kicks off in Lake Placid this Thursday and Friday.
The sports' top circuit returns after a seven-month break and with the Olympic Winter Games now less than 100 days away.
Reigning Olympic Champion Lizzy Yarnold will get things underway when she lines up alongside Laura Deas and Ashleigh Pittaway in the Women's Skeleton from 1.30pm GMT on Thursday.
Yarnold will be looking to build on the bronze medal she won at last season's World Championships in Konigssee as she continues her quest to become the first Briton to retain an Olympic Winter title.
Deas has also proven she has what it takes to medal in Pyeongchang in February having ended the 2016/17 season sixth in the World Cup standings, while Pittaway is all set for her second World Cup appearance after winning Youth Olympic gold in 2016.
The Women's Bobsleigh follows at 5.30pm, with Mica McNeill and Mica Moore going for GB in New York State. The pair won Junior World Championship gold in Winterberg in January, while McNeill piloted her way to three top ten finishes on the World Cup circuit last season.
Mica Moore and Mica McNeill will represent GB in the Women's Bobsleigh
The final event on Thursday is the first of two 2-man Bobsleigh races on successive days. The decision to double up on the 2-man action this week comes after unseasonably warm weather led to the cancellation of Friday's scheduled 4-man competition.
GB have named the same two crews for both Thursday and Friday's 2-man races, with the 4-man competition set to double up in Park City in a week's time.
Bruce Tasker lines up alongside sub 10-second 100m sprinter, Joel Fearon, with a view to repeating the kind of performance that saw the duo record Britain's best 2-man World Championship performance in fully 50 years when they finished fourth in Igls 19 months ago. In the other sled, Toby Olubi partners pilot Brad Hall.
Friday's action begins with Dom Parsons, Jerry Rice and Jack Thomas all competing in the Men's Skeleton at 1.30pm. The trio were eighth, 19th and 16th respectively at February's World Championships as GB registered three male sliders in the top 20 for the first time in four years. The second 2-man Bobsleigh race then brings the curtain down on the action at 6pm.
Jerry Rice and Jack Thomas both feature in the Men's Skeleton in Lake Placid
"The start of a new season is always an exciting time but that excitement is magnified this year as the Olympics are so close," said GB Skeleton Performance Advisor, Andi Schmid.
"The athletes and coaches all work incredibly hard throughout the summer and autumn - they've been training full-time again since the beginning of May - so it's great to be able to finally get back competing.
"While Olympic medals won't be won in Week 1, it is important that we get off to a good start.
We want to build momentum and confidence and it would be great to be able to do that right from the off.
"Both Lizzy and Laura have shown that they know how to win at this level and we want them to be challenging for medals on a regular basis in the lead up to the Games. Starting the season on World Cup is a new experience for Ashleigh (she has one World Cup appearance in Konigssee in 2016 to her name) and we won't be putting any pressure on her results-wise but she is a very talented slider and we wouldn't have included her in the World Cup squad if we didn't think she was good enough to be here.
"Dom has been consistently in the top 10 this Olympic cycle, while both Jack and Jerry impressed at the World Championships in February and we hope that the prospect of competing in Pyeongchang will bring out the best in them."
Those sentiments have been echoed by new GB Bobsleigh Performance Director, Chris Price, who is keen to see the confidence and spirit within his squad translate into some impressive performances in Placid.
"This isn't just about feeling good about being back on ice - this is about trying to put ourselves in the best possible position to perform out in Pyeonchang in three months' time," said Price.
"We know we need to produce from the outset to give ourselves strong starting positions at the Games as results in the World Cup races will determine our Olympic ranking and the quality of ice we'll get in South Korea.
The mood in the camp is a really positive one despite it being a difficult summer and it's been great to come into a squad that is pulling together and knows the importance of performing on the big stage.
"Everyone will get an opportunity to perform but there's a real clarity in the squad about what we're trying to achieve and we're looking forward to what lies ahead."
World Cup 1, Lake Placid
All times are GMT
Thurs 9 Nov
Women's Skeleton 1.30pm
Women's Bobsleigh 5.30pm
Men's 2-man Bobsleigh 8.30pm
Fri 10 Nov
Men's Skeleton 1.30pm
Men's 2-man Bobsleigh 6pm
You can watch all the action via the BBC Red Button and Connected App, plus the IBSF website and YouTube channels. Click here for full details on what's on where.
Britain's Skeleton sliders are also in action on the Europa Cup and Intercontinental Cup circuits this coming weekend, with the EC action taking place in Lillehammer on Saturday and Sunday and the ICC races scheduled for Calgary on Sunday and Monday.