Year begins with bronze for GB Bobsleigh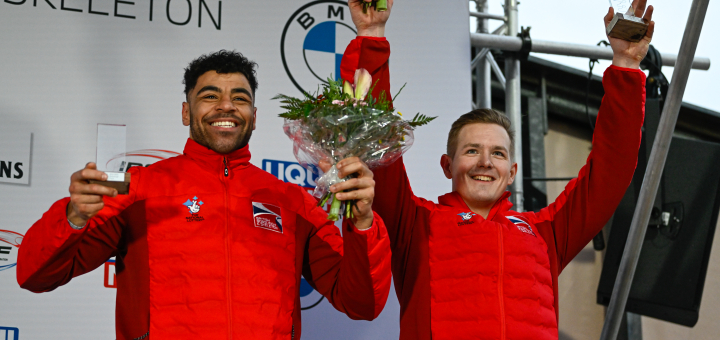 British Bobsleigh began 2023 with another World Cup medal as Brad Hall and Taylor Lawrence won 2-man bronze in Winterberg.
Hall and Lawrence had each won four World Cup medals so far this season prior to today's competition, including an historic 4-man gold with Greg Cackett and Arran Gulliver in Lake Placid in the final race of 2022.
Their two-run time of 1 minute 51.44 seconds saw them start the new year with a third 2-man medal in as many races together, following on from a brace of silvers in Whistler and Park City in November and December. 
Hall hadn't previously medalled at Winterberg in the 2-man event but he made the podium this time as only Olympic silver medalist Johannes Lochner and Switzerland's Michael Vogt, who was fourth in the 2-man at the Beijing Olympics in February, finished above the Brits in tricky conditions.
Hall and Lawrence continued a stunning start to the season
Lawrence helped Hall to the second best start in both runs, clocking 5.14 and 5.11 seconds off the top, as Lochner and his brakeman Georg Fleischhauer were the only team to go quicker in the initial part of the race.
Hall and Lawrence sat third at halfway and retained that position in Run 2, as Vogt jumped ahead of them into silver but Germany's Olympic 4-man bronze medalist Christop Hafer fell back to fourth in an 18-strong field.
"Winning a medal shouldn't be taken for granted despite the success so far this season and it's a good way to start the new year," said Hall.
We wanted to keep the momentum going from the races in North America and we've done that. Taylor gave me two great starts and he's shown again that he's adapting brilliantly to 2-man.
"We hadn't had great results in the 2-man here before so I was a little apprehensive of that and the disappointing 2-man result from Lake Placid when we finished fifth was playing on my mind a little bit beforehand. But we managed to come away with a bronze and we're really happy with that result. 
"I'm not as happy with the performance as I am with the result, though, to be honest. Taylor was exceptional with the push but I couldn't quite get the driving right today. We're now starting to see winning a medal as a minimum standard and we're in a good place looking forward to the 4-man tomorrow. We know we've got the talent in the push and I'm very confident driving 4-man at this track."
Hall and Lawrence go again in the 4-man competition on Sunday at 1.30pm when they team up with Cackett and Gulliver looking to repeat their race win in the US last time out.
The World Cup action then stays in Germany for the next fortnight, with Altenberg hosting back-to-back races prior to the World Championships in St Moritz at the end of January and start of February.