Wyatt wins brilliant bronze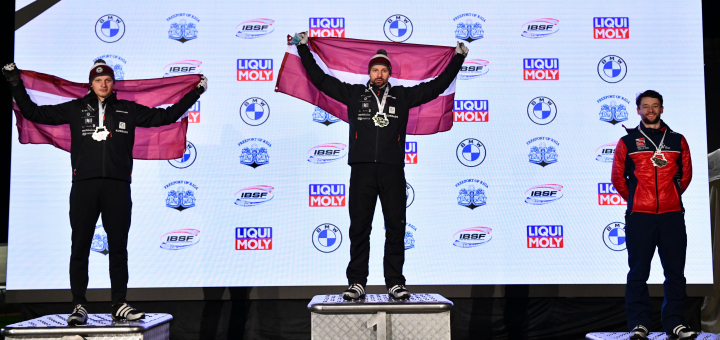 Marcus Wyatt won British Skeleton's first men's World Cup medal for seven years when he claimed a brilliant bronze in Sigulda on Friday afternoon.
Wyatt moved up from sixth spot at halfway to finish third behind home favourites Martins and Tomass Dukurs in the second race of the new sliding season.
It beat the 28-year-old's previous best of fourth in Igls in January and it marked GB's best men's result in the competition since Dom Parsons took a medal of the same colour in Calgary in November 2013. Parsons went on to win an Olympic medal in PyeongChang just shy of three years ago and the team will hope Wyatt can enjoy similar success in Beijing in 15 months' time.
"I can't stop saying how crazy it is - it's something I've always dreamt of," said Wyatt, a former American Footballer from Devon who made his World Cup debut in December 2017. 
"I'm a bit speechless really. To be on the podium with the Dukurs brothers is pretty special. We've got a great group here and I can't thank the team enough for helping me get to this point.
"I was pretty happy with Run 1 but I knew I could make improvements in Run 2, and I did that.
I knew the second run was good as soon as I crossed the line but I didn't know it was good enough to get a medal.
"It felt a bit like Igls last season when the people ahead of me kept dropping off and I stayed in the leader's box for longer and longer. But I thought it would stop at fourth so to get a medal was amazing.
"The plan is to now to push on. This is a big step so now let's go and chase a gold for the rest of the season."
Marcus Wyatt won his first World Cup medal on Friday
Wyatt clocked a combined time of 1 minute 39.85 seconds to beat everyone bar the two home sliders a week after he finished eighth at the same venue in the season opener.
Fellow Brit Craig Thompson was joint seventh in a time of 1 minute 40.09 seconds and Matt Weston finished 12th in 1.41.07.
Wyatt's medal was the culmination of a fantastic fortnight of racing for the British team. They began the World Cup season with a trio of men in the top ten of a World Cup race for the first time since 2012, while Olympic bronze medalist Laura Deas produced her best results for 21 months as she placed sixth last week and then fifth earlier today.
Weston was fifth on just his second World Cup start last week, while Thompson equalled his World Cup PB with sixth spot in Race 1 and Ashleigh Pittaway also produced a PB with an eighth-place finish this morning.
"It's a great result for Marcus and it's been a great couple of weeks for the team," said British Skeleton's Performance Director, Natalie Dunman.
"Marcus is a really talented slider and it's great to see all his hard work paying off. 
This year is all about building towards Beijing and this sort of result can have a big impact on the whole squad.
"All the athletes here have taken significant steps forward since last season and that is a huge credit to them and the coaching and support team. We're all pleased with the start we've made and we see this as a solid platform to build on."
The World Cup circuit takes a break next week but returns in Igls, Austria on Friday, December 11th.