Wyatt wins Beijing silver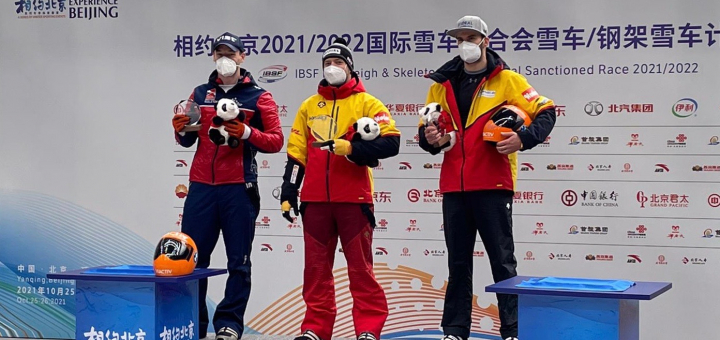 Marcus Wyatt enjoyed a dream start to the Olympic skeleton season as he won silver at the Beijing test event on Monday morning.
Wyatt secured second spot behind Germany's Alexander Gassner on his very first taste of the Olympic track.
The 29-year-old from Devon finished in a time of 2 minutes 3.65 seconds to prevent a German 1-2-3 in China.
In a strong field that featured all of the major contenders for the Olympic title in less than four months' time, Wyatt produced the second and then fourth fastest time in his respective runs to finish five hundredths of a second ahead of Axel Jungk in third and 11 hundredths clear of Christopher Grotheer in fourth.
"It's a great start to the season and a near perfect end to the three weeks here in Beijing," said Wyatt, who won his maiden World Cup medal in Sigulda just under a year ago.
"I'm sure there will be points of the season that aren't going so well so to have this in my locker and to know that I've performed on the track where it really matters is massive for my confidence.
It's great to have it in my back pocket for the rest of the year.
"I'd been building throughout the training after a tough first few days - I managed to find my rhythm and I've been on an upwards trajectory since then. The final day of training was pretty good and I feel like I've got a good feel for the flow of the track now.
"Consistency at this track is really difficult and that was part of the reason I did so well - I put two consistent runs together when it counted. I feel like I've started to click with the track but the important part will be when we come back here in 100 days' time."
Marcus Wyatt was second on the Olympic track in Beijing
"It's a great result for Marcus and a real boost for him ahead of the new season," said British Skeleton Performance Director, Natalie Dunman.
"It shows him and the rest of the team what's possible when we come back to Beijing in February."
Fellow Brits Craig Thompson and Matt Weston finished 17th and 19th, with 2014 Olympic gold medalist Alexander Tretiakov 18th and reigning Olympic Champion Sunbing Yun down in 22nd.
In the women's race, Olympic bronze medalist Laura Deas was 16th, one spot behind team-mate Brogan Crowley, as Germany again celebrated the race win through Tina Hermann. Hannah Neise won silver for the Germans and Russia's Elena Nikitina took bronze.
The teams head back home later this week as a three-week training period at the Olympic venue comes to an end.
The World Cup season kicks off in Igls, Austria on November 19, with eight races on the top circuit prior to February's return to China for the global showpiece.