Williams issues final call for Girls4Gold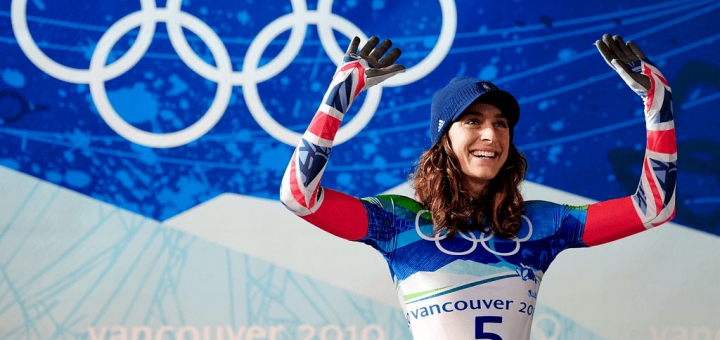 The opening phase of British Skeleton's latest search for future female stars draws to a close today and Olympic Champion Amy Williams is urging anyone who's thinking of applying to do so before it's too late.
Williams knows first hand how a step in a new direction can lead to something special, having gone from a county level runner to the world's best skeleton slider in just eight years. 
The then 19-year-old had never even tried the sport when she watched Alex Coomber win GB's first Olympic medal of the modern era in 2002 but she found herself picking up the ultimate prize in Vancouver in 2010 and is now encouraging the next generation to take a similar leap of faith.
"You just need to turn your head left or right and think outside of your bubble. That's what I did: I thought, 'I'm not quite going to make it in athletics' but I went on to win Olympic gold in skeleton," said Williams.
"I was never quite good enough to get to English Schools level as a runner. I kind of did a little bit of everything: the 100, 200, hurdles, 300, 400. I wasn't quite quick enough for 100m so I thought I'd better increase the distance a bit, then I didn't quite have enough endurance for the 400! 
"I specifically remember watching the Salt Lake City Olympic Games from up in the old Sports Café at the University of Bath where I was a student. I remember being with some skeleton athletes at the time but still not knowing much about the sport or what it really was. Never in a million years as I watched Alex Coomber win bronze did I think I'd become a skeleton athlete.
To know that there is an opening in something that isn't such a mainstream sport is massive. If you look back at the history of all our success in skeleton, you'll see they all come from different sports.
"It shows you that you could be really great at this sport, whatever your sporting background."
Amy Williams won the ultimate prize 11 years ago 
British Skeleton have a remarkable record of success on the world stage, with Williams one of six athletes to have won Olympic medals in the past 19 years. Lizzy Yarnold followed Williams' gold in Canada with two of her own in Russia and South Korea, while Shelley Rudman, Laura Deas, Dom Parsons and Coomber have all helped make GB the most successful nation in Olympic skeleton history. 
And whereas Williams came into the sport at a time when the British programme was in its infancy, those signing up in the final 24 hours of the Girls4Gold campaign will be coming into a set up that already has everything in place to help them achieve their Olympic dreams.
"Laura and Lizzy are perfect examples of the fact that, if you've got the skillset and you work with what is an awesome support system, you can achieve great things," added Williams, who combines a mentor role with the British team with running her own personal training business and a career in the media.
It's tried and tested and, if you throw yourself in 110 per cent, there's no reason why you can't stand on an Olympic podium.
"The sport is in a great place and the programme knows how to help people perform at the highest level.
"If you've got that drive and that spirit in you and you have that need to achieve and to see how far you can push yourself, take the leap. Just go for it. Have an open mind. You've got one chance in life so make the most of it - you won't regret it."
The Project Milano: Girls4Gold campaign is searching for athletes who have the potential to win Olympic gold in Milan Cortina in 2026.
British Skeleton are welcoming applications from females aged 17-25 who fulfil one or more of the criteria below: 
Are ambitious to be the best you can be

Have a desire to be challenged and develop as a person

Love the adrenaline associated with theme parks, fast rides and extreme sports

Have the ability to run fast or jump high

Enjoy being part of a team but can also focus on individual goals 

Share our mantra of 'nothing is impossible'

And, of course, are willing to push yourself to be the best in the world
To sign up and take your first step to being the best you can be, click here
Applications close at midnight tonight, April 30th.