Weston wins gold for GB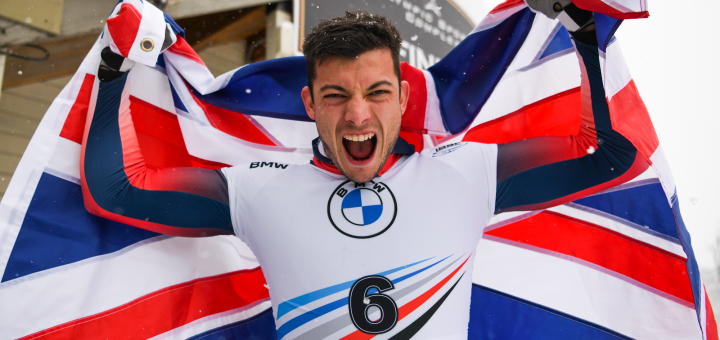 Matt Weston won World Cup gold on Friday evening as British Skeleton's stunning start to the sliding season continued in the United States.
Weston won his second gold medal in just over 12 months as he took top spot in Lake Placid in the final race of the calendar year.
The 25-year-old clocked a combined time of 1 minute 48.16 seconds to see off reigning Olympic and World Champion Christopher Grotheer by 16 hundredths of a second in New York State.
It matched his maiden gold in Igls in November of last year and means he has now won two medals in three races, having taken bronze in Whistler in the opening race of the season three weeks ago.
It also means that British Skeleton have won six medals in World Cup competition since November, with Marcus Wyatt also having won gold and bronze, Brogan Crowley silver and Laura Deas bronze across two races in America and another in Canada.
"It's a great feeling," said Weston. "It's the perfect way to end 2022.
"Winning races is the ultimate aim and I'm really happy to have a gold on my own, rather than sharing it like it did with the three-way tie in Igls last season!
I'd never been to Lake Placid before so it's pretty special to come away with a gold after so little time on the track.
"I'm gutted for Marcus to just slip out of the medals - it would have been great to have two of us on the podium again like in Whistler.
"The team's in a great place. Everything's coming together and I'm looking forward to seeing what we can do for the rest of the season."
Wyatt, who wore the World Cup points leader's bib going into the race, finished fourth as he just missed out on a hat-trick of medals pre-Christmas.
The former American Footballer, who turned 31-year this week, led at halfway but was only sixth quickest in Run 2 and slipped outside the podium places as a result.
Wyatt still sits in the top three in the world rankings as the World Cup season breaks until the New Year, though, with Weston sixth so far.
Fellow Brit Laurence Bostock finished 15th on the day, with South Korea's new World No1, Seunggi Jung, taking silver behind Weston and Grotheer.
In the women's race, Crowley placed ninth and Deas 11th as Tina Hermann took gold, Susane Kreher silver and Kelly Curtis bronze.
Crowley clocked 56.03 and 56.04 in her two runs to finish 0.68 seconds outside the medals, while Deas was five hundredths further back.
The circuit resumes in Winterberg, Germany, on January 6th, with a double header in Altenberg preceding the World Championships in St Moritz prior to the final two races of the season in Igls and Sigulda in February.