Weston wins another World Cup gold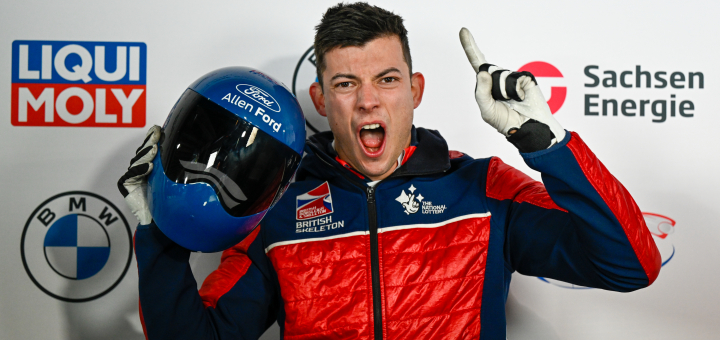 Matt Weston won another World Cup Skeleton gold for Great Britain as he triumphed in Germany on Friday afternoon.
Weston took top spot in Altenberg just two races after beating the world's best in Lake Placid in the final competition pre Christmas.
A third gold medal of Weston's career makes it eight World Cup medals already this season for British Skeleton, with the 25-year-old having also won two bronze plus that gold in the US; Marcus Wyatt contributing gold and bronze; Brogan Crowley silver and Laura Deas bronze across five events this term.
Deas finished fifth and Wyatt sixth today, while Tabby Stoecker and Freya Tarbit made it two Brits on the same Junior World Championship podium for the first time ever as they won silver and bronze in Winterberg this morning.
"This win means a lot to me. It's such a heavily German dominated track so I'm really pleased to have come here and righted some wrongs from my previous times in Altenberg," said Weston, whose World Championship hopes were ended by a crash at the same venue two years ago.
To beat (Christoph) Grotheer here when he's sliding some of the best lines I've seen all year is a great feeling.
"And there's still a lot of room for improvement in my runs as well, so that gives me confidence going into next week that we can hopefully do the same again. It shows that the changes we've made this year are really, really making a difference.
"I'm really pleased to see Marcus and Laura getting in the top six as well, plus Tabby and Freya getting medals at the Junior Worlds. It's a successful Friday for us! The mood in the camp is really good and it's nice to get rewarded with medals and wider podium places."
Matt Weston won gold for the second time this season
Weston clocked a combined time of 1 minute 52.44 seconds, beating home favourite Christopher Grotheer by 0.14 seconds on the same track where the reigning Olympic champion won the World Championship crown in both 2020 and 2021. Olympic silver medalist Axel Jungk took bronze, fully half a second behind Weston.
Weston was just fifth after the first run but went significantly faster than everyone else in Run 2 as he closed the gap on those above him the overall world rankings. The former youth international in taekwondo remains fifth in the race for the crystal globe but is on the coat tails of South Korea's Seunggi Jung in fourth and Jungk in third.
Wyatt, who came down in 1 minute 53.32, still sits second in the rankings after finishing first, third, fourth (twice) and sixth today, with only Grotheer ahead of him in the race for the overall title.
Team-mate Craig Thompson finished 16th in his second World Cup race of the season in a time of 1.54.70. 
The 30-year-old won three bronze medals and a silver on the ICC circuit prior to Christmas and was 10th on his return to World Cup competition in Winterberg last week.
In the women's race which took place earlier in the day, Deas produced a superb second run to come close to securing a second medal of the season.
Laura Deas made the wider podium in her first race of 2023
Deas sat ninth at halfway but only Olympic bronze medalist Kimberley Bos and race winner Tina Hermann went quicker in Run 2 as she jumped ahead of former overall World Cup winners Jacqueline Lolling and Janine Flock, plus Anna Fernstaedt of the Czech Republic and America's Kelly Curtis. 
The 34-year-old came close to picking off Mirela Rahneva in fourth as she clocked a two-run time of 1 minute 57.67 seconds, four hundredths behind the Canadian.
She sits ninth in the world rankings despite having competed in one fewer race than her rivals after missing last week's outing in Winterberg.
Fellow Brit Brogan Crowley finished 16th in 1.59.25.
The team will remain in Altenberg for another week, with the sixth race of the World Cup season scheduled for a week today. That race also doubles as the European Championships.
Bobsleigh takes centre stage for the rest of the weekend, with Brad Hall and Taylor Lawrence going for GB in the 2-man competition on Saturday before Greg Cackett and Arran Gulliver join them for the 4-man event on Sunday.