Weston sixth at halfway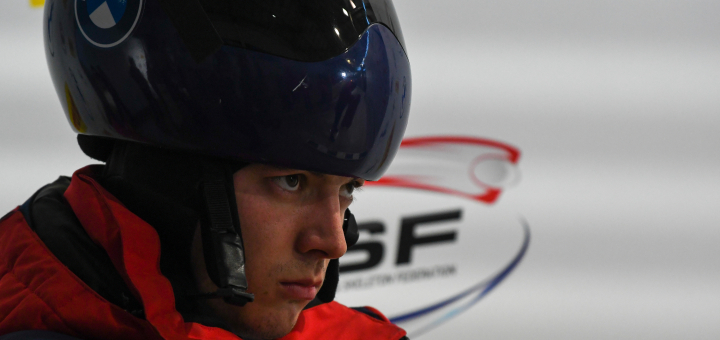 Matt Weston sits sixth at the halfway mark of the Skeleton World Championships in Altenberg ahead of the final two heats of action tomorrow afternoon.
Weston is only in his second season of racing but the former taekwondo youth international is on the brink of recording Great Britain's best men's result at the season showpiece in a decade.
The 23-year-old clocked a combined time of 1 minute 54.13 seconds to ensure only Russian and German sliders finished the first day ahead of him in the standings.
No British slider has finished in the top six since Kristan Bromley did just that in Konigssee in 2011 and, if Weston is able to gain a spot tomorrow, a finish of fifth or higher would be the nation's best since Adam Pengilly won silver in Lake Placid back in 2009.
Weston, who was 15th here last year, is currently 17 hundredths of a second behind last season's World Championship bronze medalist Alexander Gassner in fifth and a further 17 hundredths shy of Evgeniy Rukosuev in fourth.
Alexander Tretiakov, who won the global title in St Moritz in 2013 and has four more medals to his name in his 11 previous World Championship appearances, leads by just 0.04 seconds from Germany's Felix Keisinger and 0.06 seconds from reigning champion Christopher Grotheer.
Weston's fellow Brits, Craig Thompson and Marcus Wyatt, sit 18th and 19th respectively in the 32-strong field.
Thompson and Wyatt suffered setbacks in Run 1 as early mistakes cost them significant time on arguably the most challenging track in the world. Both have won World Cup medals this season, with Thompson doing so as recently as a fortnight ago, but repeating the feat in the World Championships was always going to be difficult and their podium chances drifted away after the first heat.
They both produced quicker downtimes in Run 2 but it wasn't enough to see them improve more than a single spot on their first run positions of 19th and 20th respectively.
Olympic Champion Sungbin Yun sits 16th but there was an even bigger shock in the form of Martins Dukurs, with the Latvian legend on course for his worst World Championship result in 12 attempts. Having won six of the last eight World Championships and finished second and fourth in the others, Dukurs is down in 14th as things stand.
In the women's race, Ashleigh Pittaway leads the way for the Brits in 13th spot.
The 2016 Youth Olympic Champion, who won Junior World Championship bronze in Moritz last month, clocked a combined time of 1 minute 58.24 seconds thanks to two identical run times of 59.12 seconds.
Pittaway was joint 13th fastest in the first heat and 11th quickest in the second and now sits 0.25 seconds outside the top ten in just her second World Championships.
Olympic bronze medalist Laura Deas is 18th at the halfway mark having climbed back up two spots after a disappointing first run and World Championship debutant Brogan Crowley sits 23rd ahead of tomorrow's second day of sliding.
Germany's 2017 World Champion Jacqueline Loelling leads at the halfway mark, with the Olympic silver medalist currently 11 hundredths of a second ahead of Elena Nikitina and 24 hundredths in front of compatriot Tina Hermann.
Hermann was only the 11th fastest in Run 1 but she went nearly four tenths of a second quicker than anyone else in Run 2 to move into the medals.
Recently crowned overall World Cup winner Janine Flock was the biggest shock of the day in the women's race after she found herself 17th following the first run and 15th at the end of the session.
Race schedule
Fri 12 Feb
Women's Skeleton (Heat 3 & 4) 8am
Men's Skeleton (Heat 3 & 4) 12pm
Sat 13 Feb
Skeleton Mixed Team Competition 8am
Women's monobob (Heat 1 & 2) 10.30am
Men's 4-man bobsleigh (Heat 1 & 2) 2.45pm
Sun 14 Feb
Women's monobob (Heat 3 & 4) 8am
Men's 4-man bobsleigh (Heat 3 & 4) 2pm
You can watch all the World Championship racing via the International Bobsleigh & Skeleton Federation website and on their YouTube channel.
We'll provide updates from the races via our own social media channels and we'll post a round up of results once they've come in.