Weston seeks progress not podiums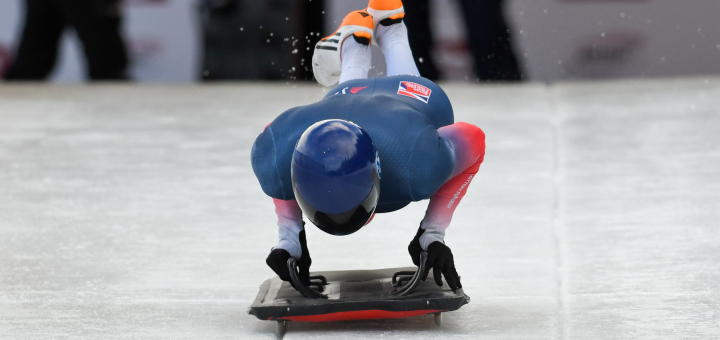 Matt Weston may have been within a whisker of a World Cup medal in Igls last week but he insists that isn't his main focus when he races again at the same venue tomorrow morning.
Weston finished fourth in Austria seven days ago, a mere 0.13 seconds from bronze and just two hundredths more off gold.
The 23-year-old shared the lead with Latvia's Martins Dukurs at the halfway mark, having become just the second athlete in 12 years to go as quick as the reigning World Cup Champion in Innsbruck before eventually having to settle for a PB rather than a maiden medal.
It was a remarkable effort when you consider that the young Brit was competing in just his fourth World Cup race and was only beaten by a trio of Olympic medalists in a field of 20 top-class athletes.
It certainly raised eyebrows on the circuit but Weston has no intention of getting carried away with the praise and he's made it clear he hasn't reset his goals as a result.
"I'm not looking at this race to try and replicate or beat what I did last week - I'm just trying to produce the best runs I can," said Weston, who was fifth and then 12th in the first two races of the season in Sigulda.
I'm not chasing anything: as long as I focus on my own goals, the results should come, but I know that it's all about my performance rather than anything else at this stage.
"If you'd have told me before the race that I was going to be fourth, I'd have bitten your hand off - I'd have taken it straight away. The fact that I was tied first after the first run made it bittersweet, but that's all part of the learning experience.
"The goal when I first started racing for GB last season was to get to the Milan Cortina Olympics in 2026 but last season went well and I started to think that I had a genuine chance of getting to Beijing, too - if everything went well. Those goals are still there 100 per cent but I'm not suddenly thinking that I've made it just because I've had a couple of good results.
"I know how much hard work I need to put in and I know that I'm still only in the early stages of my development. I definitely don't feel cemented at this level yet. I need to get a few more experiences under my belt and then see where I fit." 
Matt Weston knows that this year is all about development
Weston races alongside fellow Brit Jerry Rice from 8.30am GMT tomorrow in what will be the last World Cup race until the New Year, with Marcus Wyatt, who won bronze in Latvia last month, and Craig Thompson, who was sixth and seventh in Sigulda, not featuring again until 2021.
Better weather means the team have had the usual amount of training runs rather than the two laufs they could complete prior to last week's race and Weston hopes that will be of benefit to the more inexperienced sliders like himself.
Throw in the time he spent in the dressing room with hall of famer Dukurs last week and all the little insights and learnings that came from coming so close last time out and Weston is understandably looking forward to getting back out there.
"We only had two training runs before the last race and that was hard to get my head around. That was a new environment for me: there wasn't much you could look to improve on - it was more of a case of just getting down safe," added Weston, who only made his international debut 12 months ago.
"I've spent quite a bit of time at Igls so I'm comfortable here but being able to go down fast is another thing altogether. I definitely didn't have a bank of knowledge to fall back on like someone like Martins, who's raced here so many times, so it's been good to be able to get ice time in training this week.
As a programme, we're very good at learning from experiences and capitalising on any marginal gain we can get. It's not always just about what happens on the track that can make a difference: there's all the pyschological aspects that can make a big difference, too.  
"Every race for me is about learning. In this stage of my career, it's all about developing and taking something away from it. I'm trying to be like a sponge so all those things are great to have in the bank moving forward. I definitely think I'll be better for last week's experiences, 100 per cent."
The women's race follows the men's on Friday afternoon at 12.30pm GMT, with Brogan Crowley, Amelia Coltman and Madelaine Smith all going for GB.
Crowley and Coltman, who have just five World Cup appearances between them, finished 15th and 16th respectively last week, while Smith was 12th in a race that was reduced to just a single heat.
Race Schedule
All times are GMT
Fri 18 Dec
Men's Skeleton 8.30am
Women's Skeleton 12.30pm