Weston & Wyatt win gold & silver for overall success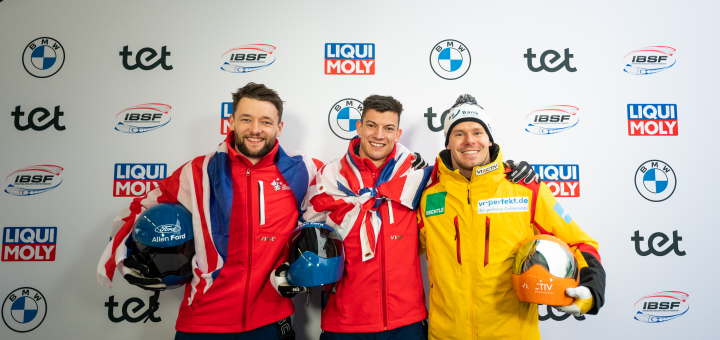 Matt Weston and Marcus Wyatt won World Cup gold and silver in Sigulda as they claimed overall season silver and bronze on a remarkable morning for British Skeleton.
Craig Thompson finished fourth on the day as GB came within a whisker of a first ever 1, 2, 3 in a men's World Cup race.
Weston added a fifth World Cup win of the season to last month's World Championship success in St Moritz as he finished second behind Olympic Champion Christopher Grotheer in the final World Cup standings.
The 25-year-old matched double Olympic gold medalist Lizzy Yarnold's British record of seven World Cup medals in one season, having previously triumphed in Lake Placid, Igls and Altenberg (twice) and won bronze in Whistler and Winterberg. Only an 18th place finish in the second race of the season in Park City when he popped a spur at the start prevented him from taking the overall title across eight events.
Matt Weston won the final four races of the World Cup campaign
Wyatt's third medal of the season saw him finish third in the overall standings, making it the first time the country has had two overall World Cup men's medalists in the same season. No British man had made the overall podium since Kristan Bromley won gold in 2008, with Yarnold the last British slider to make it into the medals with silver in 2015.
Weston and Wyatt join Yarnold, Bromley, Shelley Rudman and Alex Coomber as GB's only overall World Cup Skeleton medalists.
Wyatt won the opening race in Whistler in November and bronze a week later in Park City. He was only outside the top six once all season and entered the final event knowing that finishing ahead of Olympic silver medalists Axel Jungk and World Championship bronze medalist Seunggi Jung would guarantee an overall medal.
Weston clocked a combined time of 1 minute 40.39 seconds on Friday, with Wyatt 0.36 seconds back and Thompson six hundredths of a second behind third place Grotheer. It makes today's competition a best ever individual men's race for Great Britain.
Great Britain finish the World Cup season with 10 medals in the men's event. The final women's race begins at 1.30pm GMT, with Brogan Crowley and Laura Deas going for GB.
"The feeling is absolutely amazing and I don't think I'll ever get used to it," said Weston.
"Luckily, I've had quite a few of these experiences over the last few races (Weston has won the last four World Cup races and the World Championships) but winning and standing at the top of the podium still doesn't feel real.
"To win here in Sigulda at what we now see as our home track and in front of as close to a home crowd as we could ever get because of Martins (Dukurs) and Mareks (Mezencevs) being Latvian is pretty incredible.
I'm almost lost for words when I think back at how sliding was last year compared to this year and the big changes we've made. It's given me even more motivation to keep working hard and to keep pushing over the next few years to hopefully go and do what we've been doing this year at the Olympics in Milan (in 2026).
"I'm so pleased for the other guys as well. The performances have been outstanding. Marcus and Craig have done absolutely amazingly. The same goes for the girls. I'm so proud of the team we've become.
"I'm really gutted for Craig just missing out on a medal today - having a 1,2,3 would have been an unreal way to finish the season off." 
Earlier in the day, Tabby Stoecker and Freya Tarbit won Europa Cup gold and silver in Igls to secure the top two spots in the overall EC standings. Stoecker made it back-to-back wins in Austria having finished joint first on Thursday, while Tarbit moved up a spot after winning bronze in the first race at the same venue. Those results saw Tarbit take overall gold and Stoecker silver.
Overall World Cup standings 
Christopher Grotheer (Germany) 1656 points
Matt Weston (Great Britain) 1605 
Marcus Wyatt (Great Britain) 1531
To view the overall World Cup rankings in full, please click here.