Ups & downs on Day 2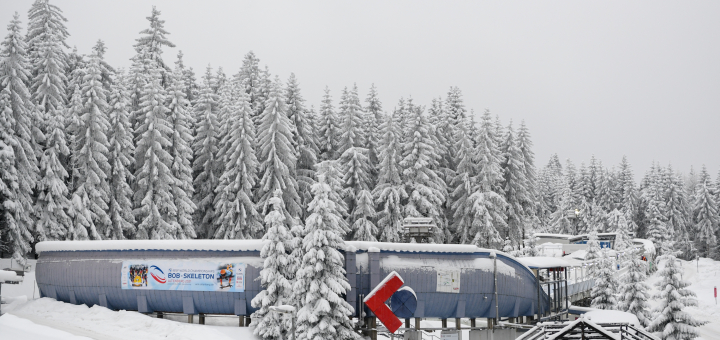 Matt Weston's hopes of a top six spot at the World Championships came to a disappointing end after a crash in Run 3 but his team mates made improvements to climb the final standings.
Weston was the top-placed Brit after Day 1 on Thursday as he sat sixth and on the verge of the nation's best men's result at the World Championships since 2011 but a heavy hit out of Corner 4 and a bigger collision coming out of Kreisel saw him slip to 23rd overall.
While the result was undoubtedly a frustrating one for the 23-year-old, it is worth remembering that this was only his ninth top tier race and it comes just 14 months after he made his international debut on the Europa Cup circuit.
Fellow Brits Marcus Wyatt and Craig Thompson enjoyed better second days, however, as they put down much improved runs to finish 12th and 14th respectively.
Having sat 19th overnight, Wyatt was the ninth quickest in Run 3 and fifth fastest in Run 4, while Thompson was 12th third time around and eighth in the final heat after ending Day 1 in 18th.
Both were regularly among the top starters across both days and both improved their times for each and every run.
Germany's Christopher Grotheer won gold for the second successive season, with Alexander Tretiakov and Alexander Gassner taking silver and bronze.
Latvian legend Martins Dukurs and reigning Olympic Champion Sungbin Yun were 16th and 17th respectively.
In the women's race, Ashleigh Pittaway and Laura Deas finished 14th and 15th, with Brogan Crowley 23rd.
Pittaway lost a single place from her overnight position of 13th but still improved on her only previous World Championship appearance of 16th in Lake Placid two years ago.
The double Junior World Championship bronze medalist clocked a combined time of 3 minutes 56.45 seconds to finish 33 hundredths of a second ahead of Deas and just eight hundredths behind Russia's Yulia Kanakina.
Deas suffered a disappointing first day on Thursday that left her 18th overnight but she was far more impressive on Day 2 as she jumped three spots in the final standings.
The Olympic bronze medalist was the seventh fastest in Heat 3 and the eighth fastest in the final run as she went more than a second and a quarter quicker than she did in her first heat on both occasions.
Having started 23rd overnight at her maiden World Championships, Crowley went considerably quicker in Run 3 but was unable to force her way into the top 20 spot needed to qualify for the final run. 
There were encouraging signs in the form of start times, however, as the former heptathlete produced two top-five starts in what was her first-ever two-day race and just her seventh time competing on the top tier circuit.
Next up for the squad is the Team event tomorrow morning in what will be the final race of the season for these athletes.
Previously a mixed bobsleigh and skeleton competition, the team race is now a skeleton only event that debuted here at Altenberg this time last year.
Race schedule
Sat 13 Feb
Skeleton Mixed Team Competition 8am
Women's monobob (Heat 1 & 2) 10.30am
Men's 4-man bobsleigh (Heat 1 & 2) 2.45pm
Sun 14 Feb
Women's monobob (Heat 3 & 4) 8am
Men's 4-man bobsleigh (Heat 3 & 4) 2pm
You can watch all the World Championship racing via the International Bobsleigh & Skeleton Federation website and on their YouTube channel.
We'll provide updates from the races via our own social media channels and we'll post a round up of results once they've come in.