Top 8s for McNeill & Hall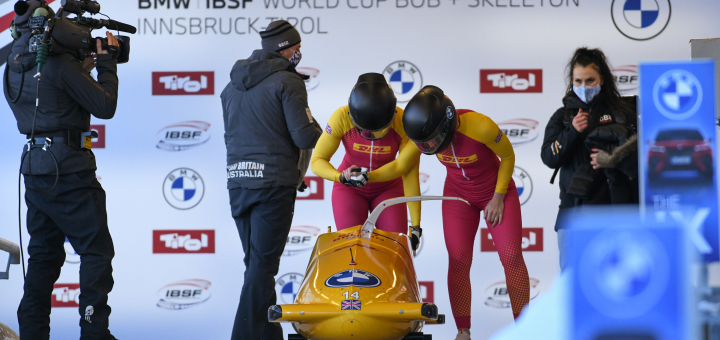 The final bobsleigh races of 2020 saw Mica McNeill and Brad Hall secure top-eight spots in Igls.
McNeill finished seventh on Saturday with Montell Douglas, while Hall was eighth with Nick Gleeson on Sunday, less than 24 hours after he and Sam Blanchet finished 12th.
Lamin Deen and Ben Simons were 17th on Saturday and 18th on Sunday in the latest back-to-back 2-man races.
McNeill, who missed the opening events of the season in Sigulda after one of her support team tested positive for Covid-19, leaves Igls with a fourth, fifth and seventh spot after a fortnight of 2-woman and monobob racing in Austria.
Like McNeill, Hall also sat out Sigulda in November after suffering an ankle injury in pre-season and he heads out of Innsbruck with sixth, seventh, eighth and 12th places, with three different brakemen having got a taste of the action. Two of those brakemen were ending a lengthy absence away from competition, with Gleeson not having raced since he and Hall finished joint fourth at the 2019 World Championships in Whistler and Blanchet having not featured in a World Cup event for almost three years.
Gleeson and Hall were the fifth fastest starters in both heats on Saturday, while only six sleds were faster off the top than Blanchet and Hall in their first run.
Hall and Gleeson teamed up for the first time since March 2019
Stephanie Schneider led an all-German 1-2-3 from Laura Nolte and Kim Kalicki in the women's race, while compatriot Francesco Friedrich took top spot in both the men's events. Latvia's Oskars Kibermanis was the only non-German to medal in any of the 2-man or 2-woman races in Igls across both weekends.
The next instalment of World Cup bobsleigh action comes in Winterberg on the weekend of January 9 and 10. The calendar will finally feature a 4-man race at that event, with the circuit then moving on to St Moritz and Konigssee over successive weekends. 
Igls will now also host the final World Cup race of the season after it was chosen to replace Beijing when the scheduled February/March trip to China was cancelled due to Covid-19. The return to Igls takes place on the last weekend of January - a week before the World Championships begin in Altenberg.