Thompson wins World Cup silver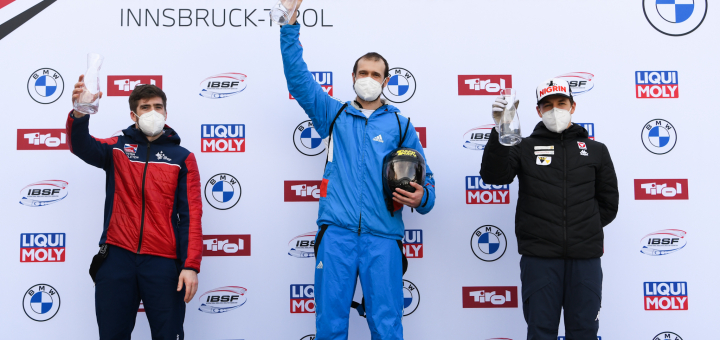 Craig Thompson won World Cup silver in the men's skeleton in Igls on Friday morning.
The 28-year-old former footballer finished second behind Russia's veteran World and Olympic medalist Alexander Tretiakov in the final World Cup competition of the season.
It was a first podium place on the top circuit for Thompson, whose previous personal best was a fifth-place finish in Sigulda in November.
It capped a remarkable World Cup season for British Skeleton, who have now won three medals through three different sliders across eight races.
"It's a great feeling. I've been close before but this is something special," said Thompson.
"I watched Marcus and Matt win medals earlier this season and I knew I was capable of matching them so it's great to have done that. There's nothing like standing on the podium knowing the hard work is paying off.
It shows what I'm capable of and it's obviously a big boost ahead of the World Championships next month.
"It's been a really good season so far - for the team as well as me personally. I'm not the sort of person who gets carried away and I know there's loads more work ahead but things are starting to look good for Beijing in a year's time and that's the big aim."
Craig Thompson has enjoyed a superb season so far
Prior to this season, the last time a British male won a World Cup medal was in 2013 when Dom Parsons took bronze in Calgary but Thompson has now followed in the footsteps of Marcus Wyatt, who bronze in Sigulda, and Matt Weston, who won silver in Igls in December.
It's the first time since 2007/2008 that three different British men have won medals in the same season and the first time since Kristan Bromley made the podium three times in 2010 that the programme has celebrated multiple men's medals in a single campaign.
Thompson clocked a combined time of 1 minute 45.82 seconds this morning, finishing four hundredths of a second ahead of home favourite Samuel Maier and 0.23 seconds shy of Tretiakov. He also saw off Olympic Champion Sungbin Yun, with the South Korean finishing fourth in a time of 1 minute 45.88.
Wyatt was next in the standings as he added fifth spot here to that medal in Latvia two months ago. It's the second week in a row that Wyatt has finished fifth and the sixth time in his last seven races that he's been in the top eight.
Fellow Brit Weston was 11th in 1.46.52, just the second time he has been outside the top ten in six races this season.
Next up for the senior team is the World Championships in Atenberg, Germany on February 11 and 12.