Team GB announce Olympic Bobsleigh team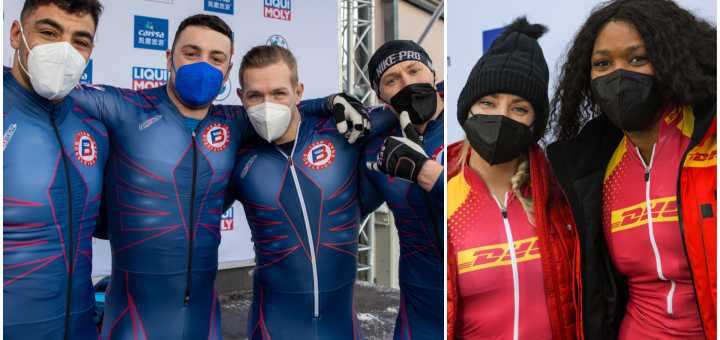 Team GB have today named eight bobsledders heading to the Olympic Winter Games in Beijing next month.
Brad Hall and Mica McNeill will pilot British crews in the 2-man, 4-man and women's bobsleigh, with both having also represented Team GB at the last Games in PyeongChang four years ago.
Hall with be joined by Nick Gleeson in the 2-man event, with Greg Cackett and Olympic debutant Taylor Lawrence chosen for the 4-man team and Ben Simons selected as the travelling reserve.
Beijing Summer Olympian Montell Douglas will team up with McNeill as Adele Nicoll, who has already qualified to represent Wales in the shot put at this summer's Commonwealth Games, travels as the reserve athlete for the women's team.
Hall and his team have enjoyed a stellar season so far, winning an incredible six medals on the World Cup circuit and another at the Olympic Test Event in China in October. 31-year-old Hall, Royal Marine Lawrence, Paratrooper Gleeson and former sprinter Cackett finished fourth in the 4-man world rankings and fifth in the 2-man as they recorded the country's most successful men's season since the 1990s.
"I'm honoured to be selected to represent Team GB again and I know the rest of my crew feel exactly the same," said Hall, a former decathlete from Crawley in Sussex who took up bobsleigh as a brakeman in 2012 before switching to the front seat for the PyeongChang Olympic cycle.
"We've had a great season so far and we're hoping to carry that momentum into the Games.
We said at the start of the season that we wanted to be competing with the best in the world on a consistent basis and we've shown that we can do that. The boys have regularly been among the best starters in the world, too, and we're heading to Beijing full of confidence.
"We're at the business end of the season and it's now all about giving it everything we've got at the Olympics, knowing that we've got a realistic chance of coming home with a medal."
McNeill, who registered Team GB's best-ever Olympic result in women's bobsleigh when she finished eighth four years ago, also made the World Cup podium this season as she and Nicoll won a maiden World Cup silver in Sigulda earlier this month.
"I am very excited to get onto the plane to Beijing next week for my second Olympic Games!" said McNeill, who won Youth Olympic silver in Innsbruck in 2012.
It's been a very different journey to the Games this time round but I've loved every moment of making it happen.
"I can't wait to get back on the ice out there and represent Team GB."
"It's really exciting heading into an Olympic Games with teams producing their best results ever. You cannot ask more of an athlete than to be the best they have ever been and both teams have achieved record performances this year," added Olympic Team Leader and 2014 bronze medalist, Bruce Tasker. 
"The pandemic has thrown the teams huge challenges but the resolve and determination of the athletes has been inspiring. No hope has been lost and these teams that are already at a disadvantage with no home track to practice on continue to challenge for and win medals on the global stage.
I am immensely proud of each and every one of them.
"The hard work and preparation has been done now. The teams know what they need to do and how - it's just about execution of the plan, and I'm confident in their ability do that."
Team GB will be competing in three disciplines at Beijing 2022 (2-man, 4-man and women's), with each race taking place over four runs across two days.
The first two heats of the 2-man's race take place on Monday, February 14th from 12.05pm GMT and heats 3 and 4 follow at 12.15pm on Tuesday.
The women's competition is scheduled for Friday, February 18th and Saturday, February 19th, with a 12pm GMT start on both days. 
The 4-man competition begins at 1.30am GMT on Saturday 19th before bringing the curtain down on the Games events at the same time on Sunday.
"Today's announcement is another step closer to bringing our whole team together for Beijing 2022 and an exciting moment for the selected athletes," said Team GB Chef de Mission for Beijing 2022, Georgina Harland.
What these crews have done on the World Cup circuit this season has been sensational and they'll be hoping to take that form - and also the success enjoyed at the test events- into the Games and show everyone in the UK what they can do. 
"With the Opening Ceremony just two weeks away I hope the athletes can really start to get excited for what will be a special moment in their careers."
TEAM GB BOBSLEIGH TEAM
2-Man
Brad Hall 
Nick Gleeson
Alternate: Greg Cackett
4-man
Brad Hall
Taylor Lawrence
Nick Gleeson
Greg Cackett
Alternate: Ben Simons
Women's
Mica McNeill
Montell Douglas
Alternate: Adele Nicoll