Strong start; no complacency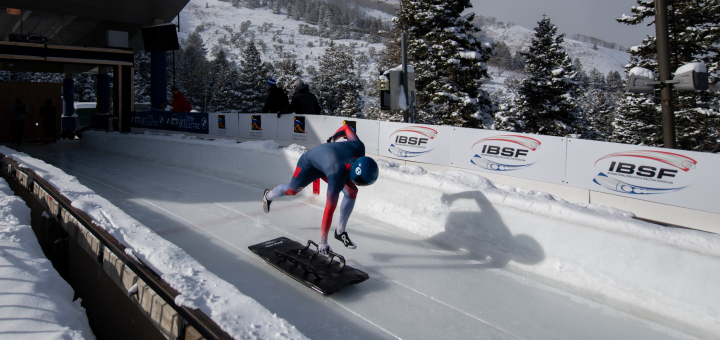 British Skeleton enjoyed a stunning start to the new season in Canada last week and are now aiming for more of the same in the United States tomorrow.
Marcus Wyatt and Matt Weston won World Cup gold and bronze respectively in Whistler on Thursday night before Brogan Crowley followed up with silver a few hours later.
It marked the best-ever start to a World Cup campaign for the team, despite the fact that the squad had limited experience on the fastest track on the circuit.
It's a similar story when it comes to ice time in Park City, where Weston and Laurence Bostock haven't slid competitively; Wyatt and Laura Deas haven't raced for five years; and where Crowley has never featured in World Cup competition. But, despite that inexperience, confidence is unsurprisingly high after the results in Whistler and the team are in positive mood on the eve of the second of three pre-Christmas World Cup races.
"The last couple of weeks have been a big confidence boost for the whole squad, with the team winning medals on the ICC and EC circuits before a big week in Whistler for the World Cup," said Performance Director, Natalie Dunman.
"It's a really positive to start the season and to the new Olympic cycle and there's lots to be proud of.
We're pleased with the results from last week - it's great to see the hard work of the athletes paying off. 
"It's also positive that the new coaching and support team are working really well together and the athletes are benefitting from that.
"There's no sense of complacency, though: this is just the start of the season and there's a lot of work ahead. We'll continue to approach each race week knowing we have to focus on the task in hand and put in the work required, and that's what we're doing in Park City. 
"This is another track that Matt and Laurence are new to and that Marcus, Laura and Brogan haven't been to for a few years so it's another good challenge. We're looking forward to trying to build on last week and continuing to improve as a group."
The women's race starts at 4.30pm GMT on Thursday, with the men's event following from 8.30 that night. 
You can follow the action live via the IBSF YouTube channel and website.