Spirits high for bobsleigh crews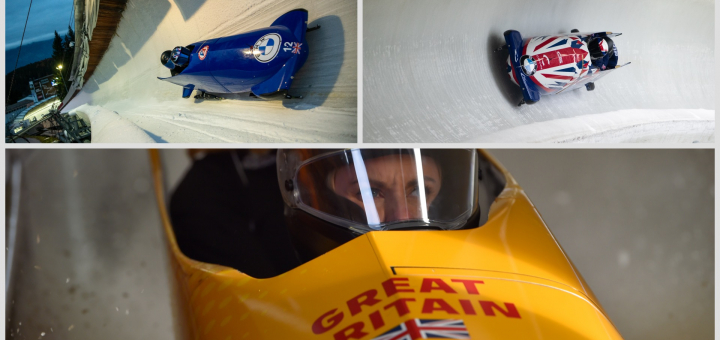 The Olympic bobsleigh season starts this Saturday and Sunday as three British pilots and their teams take to the ice in Igls, Austria.
Mica McNeil goes for GB in the women's bobsleigh and the monobob, with the latter set to make its maiden Olympic appearance in Beijing in February.
Lamin Deen and Brad Hall pilot 2-man and 4-man crews in the first of eight World Cups between now and mid January, with the season reaching a climax with the Olympic Winter Games in China the following month.
McNeill kicks things off in the monobob at 8am on Saturday, before Deen and Hall link up with Toby Olubi and Greg Cackett respectively in the 2-man competition from 12.30pm.
Hall and Cackett won silver at the Olympic Test Event in Beijing last month - the same colour medal they secured in Igls on the World Cup circuit two seasons ago. They finished sixth and seventh in their two appearances together at the iconic Austrian venue last season and will be hoping for similar success this time around.
Hall and Cackett were on the podium in Igls in 2019
Montell Douglas joins McNeill in the women's bobsleigh at 8am on Sunday as they look to build on last season's fine fourth-place finish at the same venue where McNeill won Youth Olympic silver in 2012. Douglas starts the season in the backseat of McNeill's sled ahead of Welsh duo Mica Moore and Adele Nicoll as she aims to secure a Winter Olympic spot back in Beijing some 14 years after becoming a Summer Olympian in the same city.
Olympic bronze medalist Joel Fearon and fellow 2014 and 2018 Olympian Ben Simons team up with Deen and Olubi and Nick Gleeson and Taylor Lawrence will work with Hall and Cackett in the 4-man from 12.30pm on Sunday. Olympic long jump gold medalist Greg Rutherford will have to wait to make his international debut as he is unavailable for selection for Deen's crew this weekend.
"We're super excited to be back on the ice and to be starting the World Cup in an Olympic season, said McNeill, who was a British-best eighth alongside Moore at the 2018 Olympic Winter Games in PyeongChang.
"I'm racing with Monty and we're looking forward to trying to chip away at our personal bests from previous years."
"We're very excited to see how we perform," added Deen - a veteran of more than 200 international races over the past four Olympic cycles.
We've got a new 4-man sled that I'm getting to grips with and it will be great to be in the new colour scheme, the new race suits and the new sled. 
"We've got a good team behind us and we're looking forward to these next two weekends in Igls."
Deen's team have a fresh new look for the Olympic season
Those sentiments of starting the new season in good spirits and with plenty to be positive about were echoed by Hall, whose team were hit hard by injury last year but head into the Olympic campaign with a really strong pre-season behind them.
"The boys and I are really looking forward to finally getting things started after a long summer. We're hoping to build on our recent success at the Olympic Test Event in China," said Hall.
Confidence is high and we're keen to put last season's bad luck behind us. We want to reach our potential and show the world what Great Britain have got leading up to the Olympics next year.
This weekend's racing is the first of to two back-to-back competitions in Igls, with Covid-19 restrictions meaning the World Cup circuit won't be travelling to North America this season.
The teams head to Germany for three further races before Christmas in Altenberg, Winterberg and then back to Winterberg, before starting the New Year in Sigluda, Latvia. Winterberg hosts its second competition in Race 7 and St Moritz draws the World Cup calendar to a close on the weekend of January 14-16.
You can watch all of this season's World Cup racing via the International Bobsleigh & Skeleton Federation website and on their YouTube channel.
We'll provide updates via our own social media channels and we'll post a round up of results once they've come in.