Skeleton team keen to kick on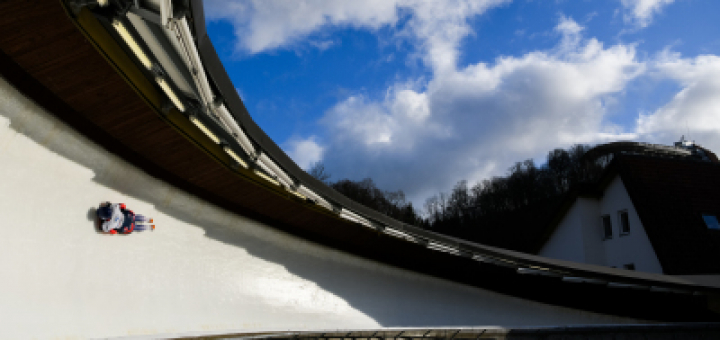 The British Skeleton team enjoyed a strong start to the season in Latvia last week but they believe there is more in the tank when Race 2 takes place this Friday.
The men's team secured their first trio of top ten finishes in a World Cup race for 12 years and Olympic bronze medalist Laura Deas recorded her best top-tier result for 21 months with sixth place in Sigulda.
Matt Weston's fifth-place finish was a personal best; Craig Thompson's sixth spot was a joint PB; and Amelia Coltman didn't look out of place when finishing 14th on her World Cup debut, while Ashleigh Pittaway produced the eighth best time of Run 2 to finish 12th overall and Marcus Wyatt just missed out on making it a British five, six, seven in the men's event.
But, while there was a feeling of general satisfaction within the group at how the first race of the year had panned out, there is a definite desire to kick on come Friday's race at the same venue.
"Personally, I'm really happy to be starting the season off with such a good result. It's set the bar high and created some momentum but now I want to keep it going like that," said Weston, a 23-year-old former England junior taekwondo star who only made his international debut in December of last year.
"I'm definitely still looking to improve this week - I know there's more in the tank.
'It's been great to get to compete on the World Cup circuit so early in my career but I knew from the outset that, once I'd got that chance, I wanted to make the most of it.
This year is all about developing as a slider but getting good results has to help that process.
"Last week was another big step forward but now I want to show consistency. That started again with training this week and I've got to try and continue that in the race.
"The team environment is a really good one and that definitely helps. We all pulled each other up and were happy for each other last week. We were one hundredth (of a second) off being fifth, sixth and seventh - which would have been an even better headline - and I think that shows we're all in a good place."
Matt Weston finished fifth in just his second World Cup race
"Overall, it was a great result: the three of us boys put together some good runs and the girls showed some really good potential as well so everyone's pretty happy with where we're at," added Wyatt.
"We're excited for this week, but we all made some mistakes and everyone knows that. I know I made some mistakes that I'd like to clean up.
I definitely feel like I can move up a few spots, and I think the others feel the same.
"If we can produce similar or better results to last week, we'll be in a good place when we move on at the weekend."
Marcus Wyatt was eighth in the season opener in Sigulda
Coltman described making her World Cup debut as an 'extraordinary feeling' and something she knows will be 'extremely valuable for my development moving forwards'.
The 24-year-old who won the overall Europa Cup crown last season now sits out Race 2 as Brogan Crowley comes into the team for what will be just her second World Cup appearance following her own debut in Sigulda last season.
Crowley has been in situ with the squad since they arrived in Sigulda and both she and Coltman had known that they would race one week apiece in the back-to-back season openers as the coaching staff look to ensure as many of the squad as possible have the opportunity to experience World Cup competition this season.
The Europa Cup skeleton season also begins this week in Winterberg, with four GB athletes competing in a two-day double header.
Laurence Bostock, Benji Fulker, Rachel Hanagan and Jacob Salisbury race at the German track on Friday and Saturday as they enter their second season of international competition.
There will be no spectators in Sigulda but you can watch all of this season's World Cup racing via the International Bobsleigh & Skeleton Federation website and on their YouTube channel.
We'll provide updates from the races via our own social media channels and we'll post a round up of results once they've come in.
Just as was the case last week, there won't be any British bobsleigh teams competing in Sigulda after a positive Covid test among the wider support group left Mica McNeill's crew unable to compete in Latvia.
Brad Hall had already had to pull out of both Latvian legs after suffering a lower leg injury during pre-season training but he, McNeill and their teams are now out of isolation in Germany and plan to race in Igls on December 12.
Fellow British pilot Lamin Deen has opted to start the season on the Europa Cup circuit in Germany as the Sigulda World Cup race doesn't feature a 4-man competition.
Deen begins his season in the EC races in Winterberg on December 5 and 6 - where he will be joined by teams from the Development Squad - before heading to Igls for the 2-man World Cup races the following weekend. 
World Cup Race Schedule
All times are GMT
Fri 27 Nov
Women's Skeleton 8am 
Men's Skeleton 1pm
Sat 28 Nov
Women's Bobsleigh 8am
2-man Bobsleigh 1pm
Sun 29 Nov
2-man Bobsleigh 1pm
Europa Cup Race Schedule
All times are GMT
Fri 27 Nov
Women's Skeleton 1pm 
Men's Skeleton 3.45pm
Sat 28 Nov
Women's Skeleton 8am 
Men's Skeleton 8am