Skeleton six selected for World Champs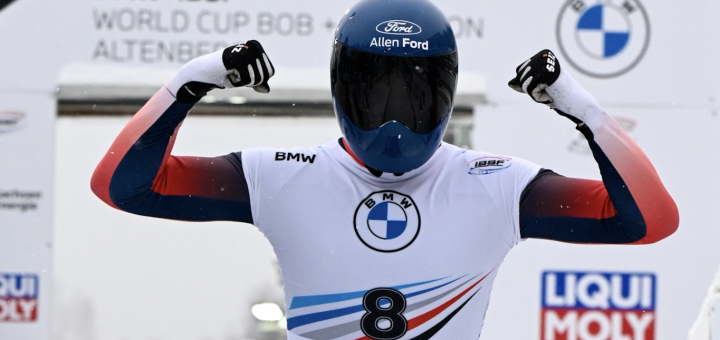 Matt Weston will lead the search for medals at next week's World Championships after British Skeleton selected a six-strong squad for the showpiece event of the season in Switzerland.
Weston won European Championship gold on Friday and has now won three of the last four World Cup competitions going into next Thursday and Friday's races in St Moritz.
The 25-year-old, who sits third in the world rankings, is joined by fellow World Cup gold medalist Marcus Wyatt, the man who sits a spot above him in the standings two thirds of the way through the campaign. Wyatt won in Whistler in November and has never been outside the top six so far this season.
Craig Thompson - a World Cup silver medalist in Igls two years ago - is the third man selected after two top tens in his three World Cup races this year and a fifth-place finish in the European Championships.
In the women's event, 2018 Olympic bronze medalist Laura Deas is selected for her seventh World Champs having won World Cup bronze in Park City in December. The 34-year-old has made the British team for every global showpiece since 2015, when she recorded her best individual finish of seventh in Winterberg.
Brogan Crowley, who won World Cup silver in Whistler a week before Deas won bronze, is chosen for her second World Championships having made her debut last time out in Altenberg in 2021. The 28-year-old former GB Youth heptathlete joined Deas at the Beijing Olympics last year and is currently 10th in the world standings after a medal and two top ten finishes in her five races to date. 
Tabby Stoecker, who only made her World Cup debut three weeks ago, completes the line up after an outstanding season in which she won Junior World Championship silver earlier this month. That success in Winterberg made it back-to-back silvers in the Junior Worlds after she reached the podium in Igls 12 months ago and it means the 22-year-old Londoner has three medals to her name this term after a silver and bronze on the Europa Cup circuit in Bludenz and Lillehammer.
Freya Tarbit was initially selected for the third women's position after winning five medals so far this season but a hamstring injury suffered in the first run of her bronze medal winning performance at the Junior World Championships prevented her taking her spot in St Moritz.
The World Championships are the highlight of a non-Olympic year 
The British six head to Switzerland with no fewer than 12 medals between them and Performance Director Natalie Dunman is confident they can carry that good form with the home to the spiritual home of sliding.
"The team are feeling positive and confident about our potential to perform in St Moritz and it's great to head into the Worlds off the back of some great results across World Cup, Junior Worlds and the other competition circuits," said Dunman.
Following the disappointment of Beijing, we've worked really hard to review and reset, and the changes we've made have had a positive impact. Credit to all of the athletes for their dedication and commitment so far this season. 
"It's the first year of the new cycle but a good opportunity for us to benchmark where we are and focus on where we can find our next performance gains. We know we need to keep working hard and that's what we'll do this week in St Moritz."
The most recent British medal at a World Championships was Lizzy Yarnold's bronze in Konigssee in 2017, while the last gold came from the double Olympic Champion in Igls in 2015. 
Shelley Rudman also won gold in Moritz in 2013, with GB claiming silver via Amy Williams in Lake Placid in 2009 and Alex Coomber in Calgary in 2001. Yarnold won another bronze in Placid in 2012.
Adam Pengilly was the most recent British men's medalist in 2009 (again in Lake Placid), with Kristan Bromley the solitary gold medal winner a year earlier in Altenberg.
This year's competition also features a skeleton team event, just as it did in 2020 and 2021 when GB came fourth on both occasions.
The two squads for that event will be selected following the conclusion of the individual competitions.
British Skeleton team for IBSF World Championships
Men
Matt Weston
Marcus Wyatt
Craig Thompson
Women
Laura Deas
Brogan Crowley
Tabby Stoecker
IBSF World Championships - skeleton schedule
All times are GMT
Thurs 26 Jan
Men's Skeleton Heat 1 & 2 8am
Women's Skeleton Heat 1 & 2 12.30pm
Fri 27 Jan
Men's Skeleton Heat 3 & 4 8am 
Women's Skeleton Heat 3 & 4 12.30pm
Sun 29 Jan
Skeleton Mixed Team Competition 7am
The bobsleigh action at the World Championships begins on Saturday, with the GB team announcement to follow after this weekend's racing.