Skeleton set for season start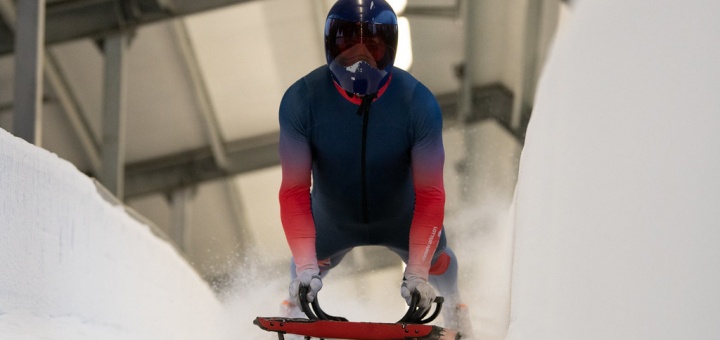 British Skeleton start their World Cup campaign in Latvia this Friday when a six-strong team take to the ice in Sigulda.
Olympic bronze medalist Laura Deas is joined in the women's race at 8am GMT by 2016 Youth Olympic Champion Ashleigh Pittaway and World Cup debutant Amelia Coltman, who won the overall Europa Crown in her very first season of competition last time out.
Craig Thompson, Matt Weston and Marcus Wyatt then go for GB in the men's event at 1pm, with all three having recorded personal bests during the 2019/20 campaign.
"It's always a long wait between the last race of the old season and the first one of the new campaign but it's felt even longer this time because of everything that's been going on in the world," said Deas, whose most recent race was the World Championships in Altenberg almost eight months ago. 
The coaching staff and the University of Bath did a great job in helping us to train as best we possibly could during the Covid-19 restrictions but there's definitely an even bigger sense of excitement to get back racing given that there's been so much uncertainty over what might happen this season.
"We feel lucky to have the opportunity to compete and I think that's made all of us even more determined to make the most of it. We've had a good few days of training since we arrived back in Sigulda on Friday and the aim now is to start the season strongly."
The focus is now fully on Friday's season opener in Sigulda 
The ongoing Covid-19 pandemic has seen the North American legs of the sport's top circuit switched to Europe but it hasn't resulted in a reduction of races in the third year of the Olympic cycle. Instead, the season will see two double headers before Christmas, with races in Sigulda this week and next followed by back-to-back competitions in Igls in Austria on December 11 and 18.
But, while the race list looks remarkably similar to previous seasons given the circumstances, the decision not to award ranking points for the new campaign presents a very different opportunity for the British team as they continue to build towards the next Olympic Winter Games in Beijing in just 15 months' time.
With quota places for the 2021/22 season set to be awarded based on 2019/20 results, the coaching team have been able to build the season around the best development options for individual sliders, rather than focusing simply on securing the results needed to keep GB's place at the top table.
"The freezing of the ranking system means we're able to approach the season in a new way," said British Skeleton's Performance Director, Natalie Dunman.
"Rather than selecting a squad that will race on the World Cup circuit and others that will race in Intercontinental Cup and Europa Cup competitions, it means we're able to pick and choose who goes where throughout the season.
"While we obviously want to do as well as we can this year, our ultimate aim is the 2022 Olympics in Beijing and then the 2026 Games in Milan Cortina. The change in system this season allows us to plot the best path to success at those Olympics. That means our best athletes will be given a bespoke programme to help them arrive in Beijing with the best chance of winning a medal and it means others will be given the chance to maximise their development by experiencing a wide variety of tracks and top-level competition early in their careers."
There will be no spectators in Sigulda but you can watch all of this season's World Cup racing via the International Bobsleigh & Skeleton Federation website and on their YouTube channel.
We'll provide updates from the races via our own social media channels and we'll post a round up of results once they've come in.
Sigulda also hosted the final World Cup race of last season
There won't be any British bobsleigh teams competing in the first of the two World Cup races in Sigulda after a positive Covid test among the wider support group left Mica McNeill's crew unable to compete in Latvia.
Brad Hall had already had to pull out of both Latvian legs after suffering a lower leg injury during pre-season training but both he and McNeill plan to race in Igls on December 12.
Fellow British pilot Lamin Deen has opted to start the season on the Europa Cup circuit in Germany as the Sigulda World Cup race doesn't feature a 4-man competition.
Deen, who is currently on pre-season ice camp in Oberhof and Altenberg, will instead begin his season in the EC races in Winterberg on December 5 and 6 before heading to Igls for the 2-man World Cup races the following weekend.
Race Schedule
All times are GMT
Fri 20 Nov
Women's Skeleton 8am 
Men's Skeleton 1pm
Sat 21 Nov
Women's Bobsleigh 7am
2-man Bobsleigh 11.45am
Sun 22 Nov
2-man Bobsleigh 12.30pm