Skeleton seek improvement in Igls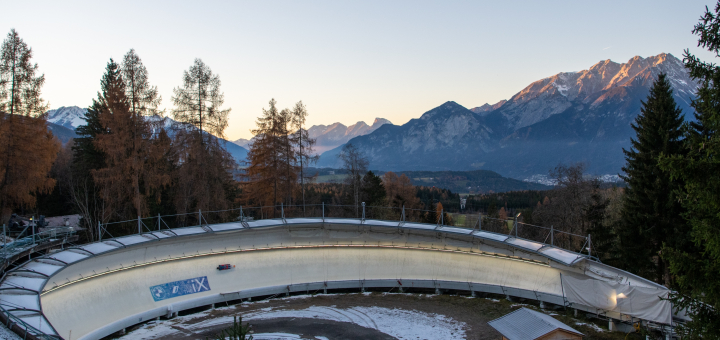 The second round of World Cup skeleton racing takes place in Igls, Austria this Friday.
The sport's top circuit kicked off at the same venue last week when Matt Weston was the best-placed Brit across the men's and women's races.
Weston finished 13th thanks to the seventh best time of the second heat in the Olympic season opener as Russian sliders took the top spots in both competitions.
The British team of five, including 2018 Olympic bronze medalist Laura Deas, now have an immediate chance to better last week's showing as they go again in the second of five back-to-back races before the end of December.
"Last week's results weren't what we wanted but we've had two good days of training since and we've got a chance to improve on Friday," said British Skeleton's Performance Director, Natalie Dunman.
We know we didn't get things quite right in Week 1 but we're confident that we can produce a better showing in Week 2.
"We've had some really good results in Igls over the last couple of years so there's no shortage of confidence in the team about their ability to perform here.
"We're always working on tweaking a lot of different aspects of our strategy, equipment and preparation in an Olympic season but we want to be challenging for those higher positions while we're doing that."
Matt Weston jumped up the standings in Run 2 last week
The men's race takes place at 9am GMT, with the women following at 1.30pm.
Weston, Craig Thompson and Marcus Wyatt go for GB in the men's competition and Brogan Crowley joins Deas in the women's race.
Wyatt, who won silver at the Olympic Test event in Beijing last month, was equal 14th, Crowley 17th, Deas 20th and Thompson 21st last week.
The devastating floods that forced the closure of the ice track in Konigssee earlier this year and the difficulties associated with travel to North America are the reasons why Igls is hosting successive race weekends before the teams head on to Altenberg next week. 
They then move across to Winterberg, before ending the five-week block back in Altenberg on December 17-19. 2021 ends and 2022 starts while the team are in Sigulda, with Winterberg hosting its second race of the season in early January. The World Cup season then concludes in St Moritz on the weekend of January 14-16 - three weeks before the start of the Olympic Winter Games in China.
The bobsleigh season follows the same schedule, with women's bob, monobob, 2-man and 4-man races taking place at the same tracks on Saturdays and Sundays. A preview of the this weekend's bobsleigh action will be posted later this week.
You can watch all of this season's World Cup racing via the International Bobsleigh & Skeleton Federation website and on their YouTube channel.
We'll provide updates via our own social media channels and we'll post a round up of results once they've come in.