Skeleton searching for next female star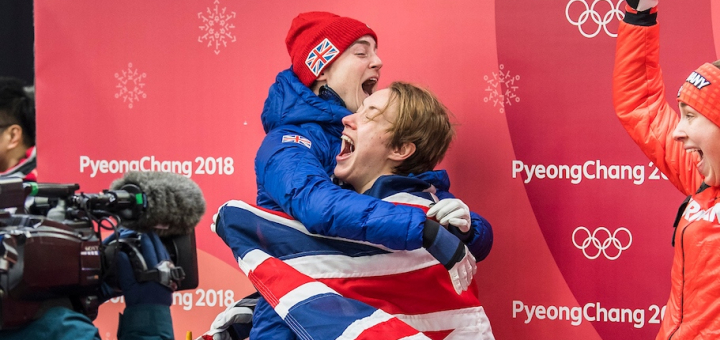 British Skeleton are on the look out for the next Lizzy Yarnold and Amy Williams after launching a nationwide talent identification campaign specifically seeking girls who can win gold at the 2026 Olympic Winter Games.
The nation's most successful winter sport in recent cycles, British women have won a medal at every Olympic Winter Games since skeleton re-joined the Olympic family in 2002, including gold at the last three Olympics courtesy of Williams in 2010 and Yarnold in 2014 and 2018.
Olympic bronze medalist Laura Deas is in line to spearhead the British challenge at next year's Olympics in Beijing but we now want to hear from young women aged 17-25 who have what it takes to follow suit in Milan Cortina in five years' time.
"We've enjoyed great success in the last five Olympic campaigns, particularly in the women's programme, and we are driven to continue all the way to Milan Cortina," said Danny Holdcroft, Head of Talent for the British Skeleton team.
To do that, we are looking for young women with potential to achieve great things, even if they don't realise that yet. 
"We are not seeking ready-made stars so we would encourage anyone who has athletic ability, is fast and powerful and has a desire to push their boundaries and experience new things to come forward and believe in themselves. That's exactly what Lizzy and Laura did 12 years ago."
Lizzy Yarnold & Laura Deas both medaled at the last Olympics
Project Milano: Girls4Gold opens to applications via the BBSA website from today, with successful applicants then invited to the University of Bath for baseline testing later in the spring.
The selection process continues through the summer, with the chosen athletes getting their first taste of the sport on ice in early winter. From there on, it's a fast track to international competition and a four-year journey to glory at the next Olympics.
"What sets this project apart from previous talent ID campaigns is how quickly we're looking to turn complete novices into world-class sliders," added Holdcroft, whose team will have support from the English Institute of Sport and UK Sport pathways departments throughout the process. 
Whereas we'd usually expect someone to transition to gold over two Olympic cycles, this time we have raised the bar and want to turn that potential into a podium place in four-and-a-half years. Everything is possible and we know we can win World Cup medals inside four years so an Olympic gold is the next logical step.
"As a programme, we continually learn and evolve and we have the coaching structure, the support network and the skillsets in the system to give these girls the best possible chance of achieving something really special. We've proven that repeatedly for more than a decade now.
"There will be a lot of young women out there who have maybe enjoyed a certain sport ever since they can remember but now could be the time for a new challenge. There will be others - like Lizzy - who always wanted to win Olympic gold and just needed a new sport they'd maybe never thought of to be able to help make that dream come true. 
"Whichever category they fall into, we want to hear from people who are passionate about reaching their potential and are willing to put in the work required to make it to the top."
Could it be you?
Whilst typically we look for individuals with a sporting background, we are initially keen to hear from you if you match one or more of the below: 
Are ambitious to be the best you can be
Have a desire to be challenged and develop as a person
Love the adrenaline associated with theme parks, fast rides and extreme sports
Have the ability to run fast or jump high
Enjoy being part of a team but can also focus on individual goals 
Share our mantra of 'nothing is impossible'
And, of course, are willing to push yourself to be the best in the world
To sign up and take your first step to being the best you can be, click here
Applications close at midnight on April 30th.