Skeleton medal brace & Bobsleigh PBs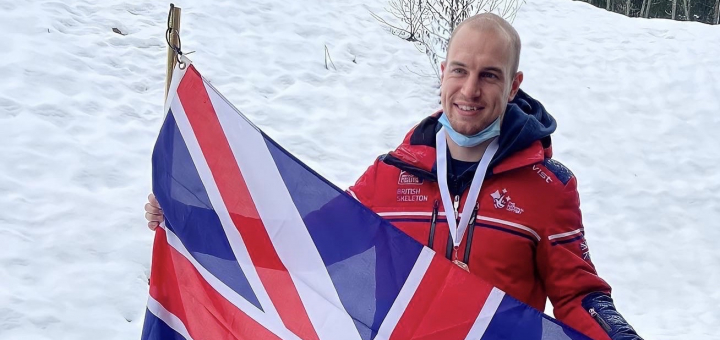 This weekend's racing was a successful one for both the British Bobsleigh and British Skeleton teams as the Skeleton squad secured a brace of medals and the Bobsleigh crews bagged a hat-trick of personal bests.
Laurence Bostock and Benji Fulker both featured on the podium as they won bronze in the Europa Cup and Intercontinental Cup competitions respectively, while bobsleigh pilots Adam Baird and John Stanbridge put down some strong markers in their own EC races.
Bostock won the BBSA's first medal of the new sliding season in Lillehammer, Norway, as he followed up his eighth position in Race 1 on Friday with a maiden podium place at the same venue 24 hours later.
The 22-year-old from Derbyshire finished behind the Chinese duo of Zheng Yin and Haifeng Zhu in a time of 1 minute 45.73 seconds, beating no fewer than four German sliders in a field of 24. Bostock's previous best was a brace of sixth-place finishes in Winterberg and Igls last season.
Laurence Bostock won EC bronze in Norway
Fulker then followed suit with a fine third across the Atlantic as he medalled in the ICC race on the world's fastest track in Whistler.
The serving member of the Royal Air Force clocked a combined time of 1 minute 48.21 seconds in a race won by Russian World Cup regular Evgeniy Rukosuev.
Fulker placed 14th at the same venue just a day earlier but bounced back in style to secure his second ICC medal in five races and his fourth international podium in the past 12 months. It also followed a pair of fourth-place finishes on the North American Cup circuit at the same track a week ago.
Fellow skeleton slider Milly Kellyman produced a personal best when she finished eighth in both the EC season openers in Lillehammer, while Freya Tarbit placed ninth and 12th in the same races and Ronnie Wells, Pat Atkin and Dan Read all finished in the teens in Norway.
Amelia Coltman was 14th and then 10th in the ICC races in Whistler, with Jacob Salisbury 16th and 18th.
In the 2-man bobsleigh in Lillehammer, Baird shone on both days of racing as he improved on last season's top finish of 12th with a 10th and then seventh spot alongside debutant Alex Cartegena.
Adam Baird and Alex Cartegena were seventh in just their second race together
Baird and Cartegena were only beaten by pilots with World Cup experience in Friday's race when they finished just three hundredths of a second outside the wider podium places at a venue where they'd never raced before.
Stanbridge and a second debutant, Johsua Hudson, were 12th in Race 1 and 14th in Race 2, with both results beating Stanbridge's previous best of 16th in Igls last season.
Baird and Stanbridge have now headed home before going back out on circuit for the Winterberg EC race in early December, while the EC Skeleton team have moved on to Winterberg for races this Friday and Saturday and Fulker, Coltman and Salisbury have travelled from Canada to America for the NAC and ICC competitions in Park City which begin this Friday and finish the following Wednesday.