Silver start to 2023 for 4-man crew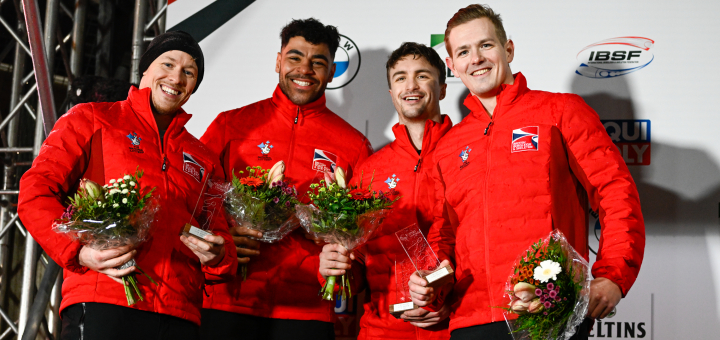 British Bobsleigh made it two medals from two races this weekend as Brad Hall, Taylor Lawrence, Arran Gulliver and Greg Cackett started the New Year in style with 4-man silver in Winterberg.
Just 24 hours after Hall and Lawrence had begun 2023 with 2-man bronze at the same track, the GB 4-man team went one better as only double reigning Olympic and World Champion Francesco Friedrich got the better of them in Germany.
Having won their maiden World Cup gold in the final race of 2022, Hall and co came close to matching that feat as they moved up from sixth at the halfway mark to pick off Olympic silver and bronze medalists Johannes Lochner and Christoph Hafer, plus yesterday's 2-man silver medalist Michael Vogt and Austria's Marcus Triechl.
The Brits clocked the fastest start in Run 2, having been second quickest off the top first time around, on their way to a 2-run time of 1 minute 49.25 seconds, 0.18 behind Friedrich, two hundredths clear of Lochner and 0.12 ahead of Hafer.
"It's another great result: a silver medal here is another massive achievement," said Hall.
"I was pretty devastated to be sixth after the first run, to be honest. The mistake I made high up the track was catastrophic - we lost so much time. I knew we could definitely bring it back on the second run but we weren't sure if we 'd be able to catch up with Hafer, who was in second place and two tenths ahead of us, but we had our eyes on the bronze.
"The boys were a bit annoyed with the Latvians out pushing us by one hundredth in the first run so they went and pushed three hundredths quicker in the second run!
They did a great job and I cleaned the drive up so we came away with the quickest time on the second run, beating Friedrich by nearly two tenths. That shows our potential: without that mistake on the first run, we could have been on the top of the podium once again.
"It's a great place to be, though, ahead of the World Championships being held here next year. We know there's a lot more work we can do to improve but we've got such fast start times when we've got a rookie on the sled! He's pushing out of his skin and there's so much potential in this crew. To push such a quick start time when the start track isn't very fast is just phenomenal. The guys were all outstanding.
"It bodes well for the future and we're looking forward to what comes next as we build up to the World Championships in Moritz."
The team made the podium twice in Winterberg this weekend
The result marks the sixth medal of the World Cup season so far for British Bobsleigh - that's six out of a possible eight across four World Cup competitions in 2-man and 4-man.
It's the second time they've won 2-man and 4-man medals on the same weekend this season and it sees them sit second in the 4-man and combined world rankings and third in the 2-man standings at the halfway mark of the World Cup season.
It's the third medal for GB sliding teams in as many days, as well, with Matt Weston winning bronze for British Skeleton at the same track on Friday. 
The World Cup action stays in Germany for the next fortnight, with Altenberg hosting back-to-back races prior to the World Championships in St Moritz at the end of January and start of February.