Silva & Richardson to lead GB Bobsleigh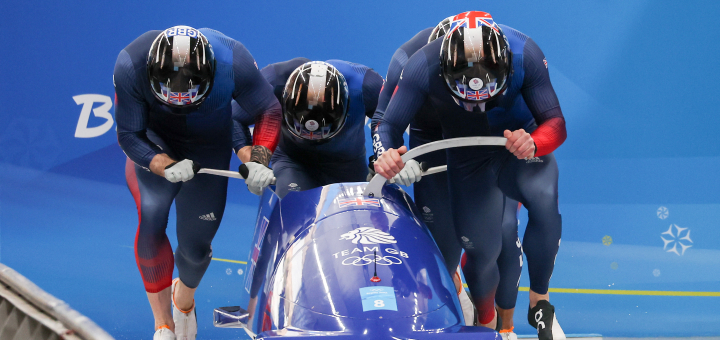 Mark Silva and Graham Richardson have been appointed as British Bobsleigh Performance Director and Head Coach respectively for the new Olympic cycle.
The pair will lead British Bobsleigh's pursuit of success in Milan Cortina in 2026 as bobsleigh returns to UK Sport funding for the first time in four years.
Silva steps up from his role as Bobsleigh Manager within the GB set up, while Richardson joins after seven successful seasons with the Canadian federation.
They share a combined 45 years of bobsleigh experience and will be aiming to build on last season's hugely impressive eight top-tier medals when the new race season starts in November.
"We are delighted to have both Mark and Graham heading up the British Bobsleigh programme as we move into a new Olympic cycle," said BBSA Chair, Joanna Poulton.
They have a huge amount of experience within different areas of the world of bobsleigh and we believe they will drive the sport in Great Britain forward, both at an elite and developmental level.
"The team enjoyed great success on the World Cup circuit last season and we are confident that Mark and Graham will help our athletes continue to perform at a high level over the next four years. We also look forward to seeing the growth of the next generation of talent looking to represent the country in Milan Cortina and beyond."
Mark Silva and Graham Richardson head up the British Bobsleigh programme
Silva originally joined the BBSA as Development Manager in the 2021/22 off season, initially heading up the pathway and development element of the British Bobsleigh programme before moving into a wider leadership role.
He remains on secondment from the Royal Air Force, for whom he has served on numerous tours of Afghanistan and the Gulf during the past 25 years and has held senior management roles for the past decade.
"During the last 18 months working with the team, I have met a lot of people who hold bobsleigh deep in their heart and it is an honour and a privilege to lead the sport forward for them," said Silva, who worked at the last two Olympic Winter Games with Jamaica.
We have some outstanding athletes in the programme - many of whom have already achieved incredible success on the international stage - and, knowing how hard they work and how much talent they have - I am confident they will continue to excel this coming season and beyond.
"Those athletes have been central to our return to UK Sport funding and they deserve a huge amount of credit for their performances and their resilience over recent years.
"A strong summer of engagement has meant we have also seen large numbers of new athletes attending sessions in Bath and I am equally excited about the potential this group have shown in the short time they have been with us. 
"The key now is to work with our partners to build a strong platform for athletes from all backgrounds and levels of experience to compete and excel together, with the overall aim of bringing long-term, sustainable success to British Bobsleigh." 
Richardson arrives at the BBSA on the back of three successive medal-winning Olympics with Canada, working as Team Manager and Technical Driving Coach for the most recent cycle.
He boasts over 30 years of experience in the sport and is one of the most well-respected figures on the international circuit.
The 57-year-old previously held head coach roles for both the Dutch and Italian teams and also worked for the International Bobsleigh & Skeleton Federation in a development coaching capacity.
"It is a huge honour and a privilege to take on the role of Head Coach for Great Britain," added Richardson, who is entering his seventh Olympic cycle as a coach.
These are exciting times for British Bobsleigh with incredibly talented athletes in all levels of our programmes.
"I very much look forward to leading the teams towards medal performances at the 2026 Milan Cortina Olympic Winter Games and beyond."
British Bobsleigh teams won seven World Cup medals and another at the Olympic Test event last season, making it their most successful regular IBSF season in recent memory.
Brad Hall and his crew then finished 11th and sixth at the Olympic Winter Games in Beijing in February, with Mica McNeill and Montell Douglas 17th in the women's event.
The new World Cup bobsleigh season begins in Whistler, Canada on the last weekend in November. Races follow in Park City and Lake Placid in the United States before Christmas, with the circuit heading to Europe in the New Year.
This season's showpiece event - the World Championships - takes place in St Moritz, Switzerland from the 26th of January to 3rd February next year.