Sights still set on Golden Globe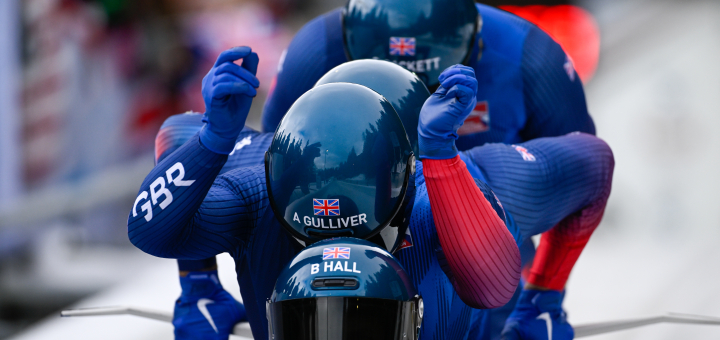 Not content with securing the country's first men's overall World Cup medal for more than a quarter of a century this afternoon, Brad Hall, Arran Gulliver, Taylor Lawrence and Greg Cackett have their sights set on taking the overall title tomorrow.
The British quartet won silver in the penultimate 4-man race of the season on Saturday and victory on Sunday would mean they finish at least joint top of the World Cup standings.
If they can find a way to claim a fourth World Cup gold of the season and take the Golden Globe at the same time, they'd become the first British bobsledders to ever achieve that milestone.
It would be a truly astonishing feat for a nation without an ice track and for a crew without any race experience together prior to the start of the season but it says a huge amount about the progress they've made when they say silver has become a slight disappointment.
"We've learned a lot from today and hopefully that puts us in a good place to go and attack tomorrow," said Hall, who has led his team to six medals in seven World Cup races - all of them silver or gold.
There's still no reason why we can't win the whole thing.
"We're happy with today's performance but there's still things to improve. We're fighting for the overall title and that's the aim. It was an interesting race and I guess it's funny that we're disappointed with second place - it shows how far we've come."
GB are looking for even more in Igls tomorrow
The Brits were in the top three starters for the 14th time in as many heats this season but, again, it's a mark of their ambitions when they are determined to go quicker off the top tomorrow.
"We need to give Brad a little more at the start. The guys are feeling good, though, and we're ready to go," added Cackett.
We're happy that we've taken the season to the wire and we've given the amazing fan army that were here today something good to watch.
"We hope everyone at home's enjoying it as well and we'll do our best to bring home the Golden Globe tomorrow."
"We're going to need a couple of big pushes but we know we've got it in us," said Gulliver. 
"We're still in a great position. If we win tomorrow we take the whole thing so let's find a couple of big pushes and two good drives and we'll get it done."
"I've been feeling under the weather so the pushes were hard but we did what we could and Brad drove two really good heats," added Lawrence. 
"We're happy to come away with a silver but, hopefully, we can go one better tomorrow."
Tomorrow's race begins at 1.30pm GMT, with Nikki McSweeney and Risqat Fabunmi-Alade going for GB in the women's bobsleigh at 9am.
The 2-man season concludes with a double header in Sigulda next week, with the Latvian track's inability to host 4-man races resulting in back-to-back 4-man competitions in Igls.