Remembering Bruce Ropner OBE 1933-2022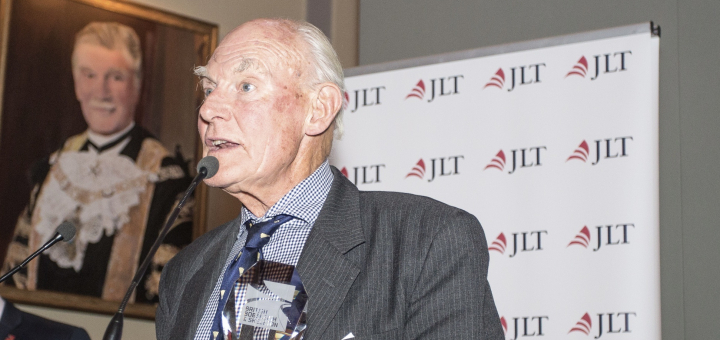 The British Bobsleigh & Skeleton Association is deeply saddened to learn of the death of Bruce Ropner OBE, Honorary Vice President of the BBSA and a huge supporter of our sports.
A British Champion with his cousin Jeremy Ropner in 1962 and a member of the GB1 crew at that year's World Championships, Bruce passed away on April 15th at the age of 89, leaving an incredible legacy both on and off the ice.
Formerly Chair of the British Bobsleigh Association, Bruce took on the role of Vice President of the BBSA on its formation and has worked tirelessly in the pursuit of improving our sports.
He was particularly passionate about providing opportunities for young people to experience the sport of bobsleigh and was instrumental in fundraising for the GB programmes ahead of the Youth Olympic Games in 2012, 2016 and 2020. 
He was awarded an OBE for services to youth bobsleigh in 2013 and was presented with a Lifetime Achievement Award at the BBSA Awards Dinner four years later, receiving a standing ovation from all in attendance at the latter.
His fundraising efforts extended to all areas of the sport and he was key to securing investment into sleds for our female teams when women's bobsleigh was introduced to the Olympic Winter Games in Salt Lake City in 2002. He was hugely influential in assisting Nicola Minichiello's path to becoming the first British female bobsleigh driver to win a World Championship title in 2009, while 2018 and 2022 Olympian Mica McNeill began her bobsleigh journey at Bruce's family push start track at Camp Hill, winning Youth Olympic silver after Ropner and Minichiello spotted her potential in 2010.
More recently, he made introductions that secured support during the 2022 Olympic season and he was dedicated to bobsleigh until the very end of his life, having had discussions about future funding as recently as a fortnight before his death and continuing to serve on the BBSA's Membership Association Committee despite his ill health.
"Bruce Ropner was a true gentleman who spanned the generations. He watched his sport change from amateur to professional but never lost his love for the sport nor the sportsmen and women at the heart of it," said BBSA Chair, Joanna Poulton.  
"He embraced change as something positive, not something to be feared. And he welcomed newcomers to the sport regardless of race, gender, ethnicity or ability. 
If you loved his sport, he welcomed you and would do all he could to support you. A number of our elite athletes owe their current status to him and we as an NGB owe him a debt of gratitude for his unwavering commitment to the sport in this country.
"He was always supportive to me personally during very difficult times and for that I will remember him with great fondness. Indeed, I believe I was the last one to share a sled with him in March 2020 when in St Moritz I was a rookie and he the experienced slider. How privileged I was to go down the ice with a true legend of British Bobsleigh."  
The great grandson of Teesside shipbuilder Sir Robert Ropner, Bruce hailed from Beadle in Yorkshire and was educated at Harrow before serving in the Welsh Guards and then joining the family firm, managing the engineering division until it was sold in the mid 1990s.
A competitive water skier and a noted cross country runner who also took part in ultra marathons and various other remarkable long distance feats, he returned to Harrow to play Harrow football - a rough and tumble cross between rugby and football - for many years after his contemporaries had given up the pursuit.
A keen cricket enthusiast who created his own ground on his estate, he also held a long-standing love of motor cars - particularly fast ones - and helped resurrect the Mallory Park racing circuit, as well as raising funds to develop one himself at a disused airfield in Darlington.
Believed to be the oldest active bobsledder in the world, Bruce bobsleighed in eight different decades, beginning in 1959 when he took to the ice with Keith Schellenberg in St Moritz and continuing through to 2020 when he slid for the final time at the same Swiss venue. 
His enthusiasm for bobsleigh was infectious and his stories about the sport and his adventures within it captured the imagination of anyone fortunate enough to have enjoyed his company. He leaves an indelible mark on our sports and on our organisation and he will be remembered fondly and appreciatively by all at the BBSA.
Bruce is survived by his wife Willow and children Robert and Nicola. 
To read an extensive obituary in The Times, please click here.