'I felt like a superhero' - Fearon retires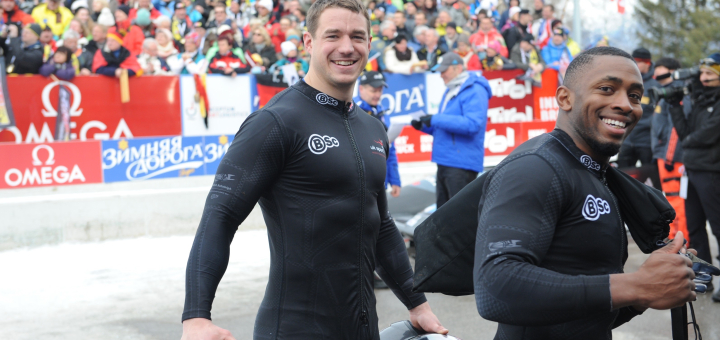 Olympic bronze medalist Joel Fearon has called time on his bobsleigh career after more 10 years at the top of the sport.
Fearon won the country's most recent Olympic bobsleigh medal when he finished third with John Jackson, Stu Benson and Bruce Tasker in Sochi in 2014.
The 34-year-old made close to a century of international appearances for Great Britain, racing 58 times on the World Cup circuit and featuring at no fewer than six World Championships in British colours.
He won World Cup silver with Jackson, Benson and Tasker in Lake Placid in 2013 and was twice a 4-man World Cup bronze medalist, first behind pilot Lamin Deen in Placid in 2016 and then with Brad Hall in Park City a year later.
A fifth-place finish in the 4-man at the 2013 World Championships in St Moritz was followed by European Championship silver in Konigssee in 2014, before Fearon pushed Tasker to the country's best 2-man World Championship result for 50 years when finishing fourth in Igls in 2016.
He went on to race in both the 2-man and 4-man competitions at the PyeongChang Olympic Winter Games in 2018 and made his final appearance for Great Britain in the World Cup 4-man race in Altenberg in December 2021.
"Joel has enjoyed an exceptional bobsleigh career and has to rank right up there with the very best breakmen this country has ever had," said British Bobsleigh's Performance Director, Mark Silva.
His ability to produce in the big moments and his longevity at the very top of the sport are standout markers of his time as a bobsledder, as is his brilliant Olympic bronze medal from Sochi.
"To compete almost 100 times for your country is a remarkable achievement and to be at the heart of a number of our best moments over a decade long period is even more impressive.
"Joel was an inspiring figure on the ice and it's great to see him having the same impact off it with his work away from bobsleigh. We wish him all the best and are sure he will continue to be a positive role model for the younger generation, and aspiring sportspeople, in particular."
Joel Fearon enjoyed an outstanding bobsleigh career
Away from bobsleigh, Fearon also excelled at athletics and represented Great Britain at the 2013 World Championships in Moscow. He became just the sixth Brit to run the 100m in under 10 seconds when he clocked 9.96 at the English Championships in Bedford shortly after the Rio Summer Olympic trials in 2016.
He has spent the year-and-a-half since his last bobsleigh race coaching and mentoring the next generation of performance athletes and will now focus on his role at Scarisbrick Hall School and as Elite Sport Manager at TCM Elite Coaching.
"The whole career was the highlight. The best bit really was the whole thing," said Fearon.
I can't pinpoint a moment but I can say that I lived my best life for ten years. I absolutely loved it all. I even loved the training.  It was that intensity - that was special.
"I look back at the photos and see all the countries I've been to, all the teams I've worked with, all the stuff I've done - everyone made it that special. There were so many faces to the team and, at the time as an athlete, you don't appreciate that because you're just grinding on. It isn't until you step away from that environment that you really see that.
"There's no result or particular race - some of my best memories are just warm weather training with the boys when there were no medals, no races, just self improvement.
"Constantly having to find things within yourself was what it was all about. All the things that I had to overcome; all the injuries; and all the bravery you had to show on the tracks. I felt like I was a superhero. That's what it felt like and I loved it."