New season kicks off in China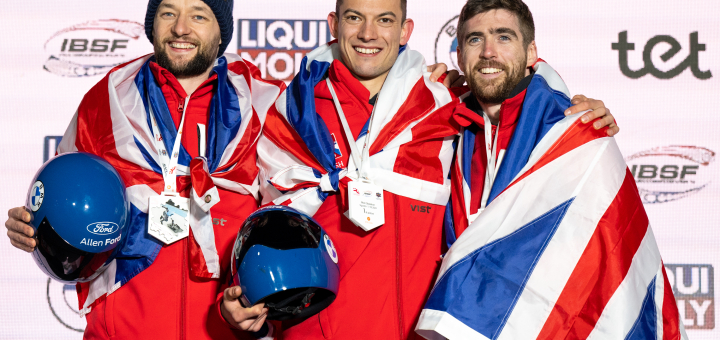 Matt Weston and the rest of the British Skeleton team are hoping to pick up where they left off when the new sliding season starts in China this Friday.
Weston was crowned World and European Champion earlier this year with comprehensive victories in St Moritz and Altenberg respectively, while the team as a whole enjoyed one of its most successful top-level campaigns.
Great Britain won 13 World Cup medals; two overall World Cup medals; and three World Championship medals, as well as making multiple Junior World and European Championship podiums in the first year of the new Olympic cycle.
It puts them in a strong position ahead of this season's opening race back in Beijing (the venue for the last Olympic Games) and, even though the focus is on being in the best possible place come the next Olympics in 2026 rather than on matching or bettering last season's successes, Weston and co are in confident mood in China. 
"Last season was a really good one for the whole team and it was a pretty special one for me," said Weston, who won five of the eight World Cup races and medalled in two others.
It was great to see the hard work pay off, but last season has gone now. We moved on to focussing on this season a long time ago and we know that this a new challenge again.
"I'm really looking forward to this race, though. I don't see it as a redemption race for the Olympics but there's definitely a nostalgic feeling coming back and seeing things like the accommodation that we stayed in. I see the track in a completely different light now with the new coaching and the new equipment. We're in a better place to go out and challenge the likes of the Germans and the Chinese, who were very strong at the Olympics.
"But I've also got my eyes set on Winterberg and the World Championships. We're prepping towards that even now. That's what we're building towards  trying to retain my World Championship title."
Matt Weston enjoyed a stunning season last time out
Weston will be joined by Marcus Wyatt, who won overall World Cup bronze last season; Craig Thompson, who was a World Championship medalist in the Team event in January; and World Cup newcomer Jacob Salisbury; with Amelia Coltman representing Great Britain in the women's race.
Salisbury and Coltman won overall Intercontinental Cup bronze last season but both are new to top tier racing, with Salisbury yet to make his World Cup debut and Coltman having only three WC races behind her back in 2020.
Performance Director Natalie Dunman is looking forward to how the new World Cup team get on in the season opener, even if this year's main focus is on performing at February's World Championships in Winterberg.
"Everyone looks forward to the first World Cup of the season and the opportunity to start racing again after summer training and, of course, we're aiming for a strong start in terms of performances," said Dunman.
Being back in Beijing and on a track we haven't raced on since the Olympic Games offers an interesting challenge and a good learning experience, particularly for the athletes who are new to competing at World Cup level.
"However, our main focus for this season is the World Championships in February next year as we build towards the 2026 Olympic Games. We want to perform at our best at both the Worlds and the Olympics and we know we need to continue putting a strong foundation in place in order to be able to do that."
Jacob Salisbury, Craig Thompson and Amelia Coltman will all race in Beijing
With GB's leading bobsleigh pilot Brad Hall recovering from back surgery, British focus is solely on skeleton this week.
The racing begins with the men's competition at 6am GMT on Friday, with the women's race following four hours later at 10am.
This season's World Cup campaign features eight races across three continents and eight countries, with France, Austria, Switzerland, Norway, Latvia, Germany and the United States of America playing host to the globe's best sliders between now and late March.
La Plagne returns to the top circuit for the first time since January 2020, while Bejing features for the first time and 1994 Olympic host Lillehammer comes back on to the calendar.
This season's showpiece event, the World Championships, take place in Winterberg, Germany, from February 22nd to March 3rd.
You can watch the action live via the IBSF YouTube channel or through the IBSF website.