More medals and a fourth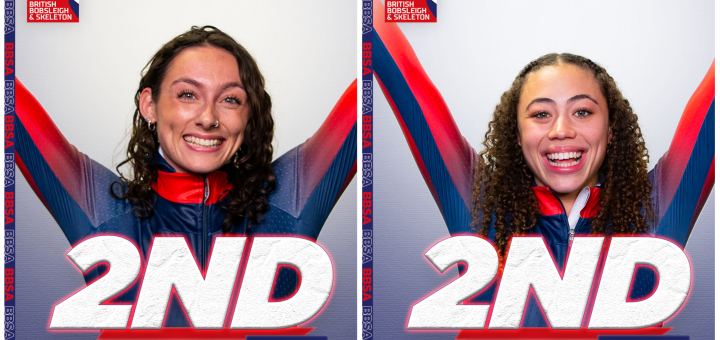 British Skeleton sliders Freya Tarbit and Tabby Stoecker both made the Europa Cup podium at the weekend, while Brad Hall's World Cup 4-man crew just missed out on a medal with a fourth-place finish on Saturday night.
Tarbit won bronze and then silver in back-to-back races in Bludenz on Friday and Saturday, with Stoecker securing silver in the first of those competitions.
The pair have now won seven medals between them in just four races so far this season and have never been outside the top five, despite the fields in each race being just shy of 30 athletes.
They sit second and third in the Europa Cup rankings ahead of the Christmas break, with only America's Ro Mystique above them at the halfway mark of the EC calendar. 28-year-old Mystique has already raced 38 times for her country and has five years' of competition experience behind her while 22-year-olds Stoecker and Tarbit have exactly half that number of races combined and only made their international debuts last year.
The EC races on which and Stoecker and Tarbit notched their latest medals also saw four young sliders represent Great Britain for the very first time. Ashlyn Bland, Bariyat Eyiowuawi, Issy Fassnidge and Eleanor Griffin came through last year's Girls 4 Gold talent identification campaign and have been fast tracked into international competition. 
They all did well on debut, especially considering the depth of the field in Austria, with Bland placing eighth and Griffin 11th on Friday and Fassnidge 11th and Eyiowuawi 19th 24 hours later.
In the men's EC races at the IBSF's newest track, Kane Densley came 11and 19th; Ronnie Wells 14th and equal 12th; and Patrick Atkin 15th and joint 12th.
Across the Atlantic, Hall and his team came within a whisker of making it four medals in as many races as they just missed a podium place in Park City, Utah.
Brad Hall & his crew finished fourth in Park City
Having won silver in the 2-man event on Friday night, Hall, Arran Gulliver, Taylor Lawrence and Greg Cackett finished just 0.03 seconds from a bronze medal and 0.04 seconds from silver in the United States late on Saturday.
They were only beaten by the three Olympic medal winning crews from Beijing earlier this year, with Francesco Friedrich taking the race win ahead of Joannes Lochner and Christoph Hafer, just as he did in China nine-and-a-half months ago.
The Brits were the second and third fastest starters in the two heats despite having only raced together twice before. Gulliver only stepped into a bobsleigh for the first time in October but the team again showed they can compete with the very best in the world.
There is no World Cup action this week as the racing takes a break before the third and final meet before Christmas in Lake Placid, New York State. The British team will be in action the World Push Championships at the same venue, though, this coming Friday and Saturday.
There's bobsleigh action in Igls courtesy of the Europa Cup circuit, with GB represented in the women's and men's events in Austria this coming Thursday, Friday and Saturday.
The skeleton Europa Cup circuit stops until January 19th but the ICC competition resumes in PyeongChang on December 17th.