More medal magic for Hall & Cackett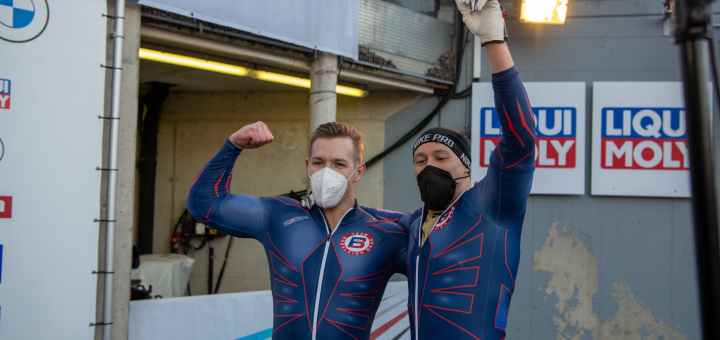 Brad Hall and Greg Cackett got their World Cup bobsleigh season off to a stunning start by winning bronze in Igls, Austria on Saturday afternoon.
The British pair clocked a combined two-run time of 1 minute 43.48 seconds as they made it two medals in as many races after their stunning silver at the Olympic Test event in China last month.
It was also the second time they had medalled in Igls, having finished second at the same track two seasons ago when they won the country's first World Cup 2-man medal of the millennium.
"It's a great start to the season for us," said Hall, who has now had seven top-eight finishes in his last eight 2-man races in Austria. 
Winning silver at the Olympic Test Event was a big result and this is another big boost for our journey to Beijing. We said we don't just want to qualify for the Olympics - we want to show that we are contenders - and we've taken another step today. 
"It's tough to beat the Germans so we're really pleased with a bronze medal, especially when 2-man isn't our favoured event."
Hall and Cackett sat joint third at halfway after a first run time of 51.69 seconds and, although Germany's Johannes Lochner broke their tie to move ahead of them in Run 2, they came down quicker than Codie Bascue to jump above the American in the final standings.
Reigning World and Olympic Champion Francesco Friedrich - who also won the Test Event in Beijing - took gold for the 39th time in a World Cup 2-man race. 
Hall & Cackett have had a great start to the season
Hall and Cackett's start times of 5.13 and 5.10 seconds in Run 1 and Run 2 respectively were the fourth and third fastest of the heats and the velocity they carried into the first corner was equally impressive, with Cackett understandably pleased with their progress.
"We're over the moon with the result," added Cackett, who, like Hall, made his Olympic debut in PyeongChang in 2018.
For me personally as the brakeman, it was a real improvement because, when we won silver here a couple of years ago, we were both pretty banged up and our pushes were slower. I felt less a part of that result because it was a slower push day but today I felt like a full part of it. 
"It was a big start, a big push and then two amazing drives by Brad. It was a real, true team effort and it's a good reward for all the hard work we put in through the summer. 
"This is exactly what we wanted - we want to win World Cup medals on the way to the Olympics and show that we're not a flash in the pan and are genuine medal contenders in both the 2-man and the 4-man." 
The medal was the third piece of World Cup silverware of Hall and Cackett's careers, with the pair also taking bronze in the 4-man event at Park City the season leading into the last Olympics. 
Fellow Brits Lamin Deen and Ben Simons finished 23rd in a one-run time of 52.29 seconds.
The British teams go again tomorrow, with Hall and Cackett teaming up with Nick Gleeson and Taylor Lawrence and Deen and Simons sliding with Joel Fearon and Toby Olubi in the 4-man at 12.30pm GMT.
Mica McNeill, who finished 18th in the mono bob this morning, goes with Montell Douglas in the women's bobsleigh at 8am. 
You can watch all of this season's World Cup racing via the International Bobsleigh & Skeleton Federation website and on their YouTube channel.
We'll provide updates via our own social media channels and we'll post a round up of results once they've come in.