Moore & Cackett crowned GB Push Champs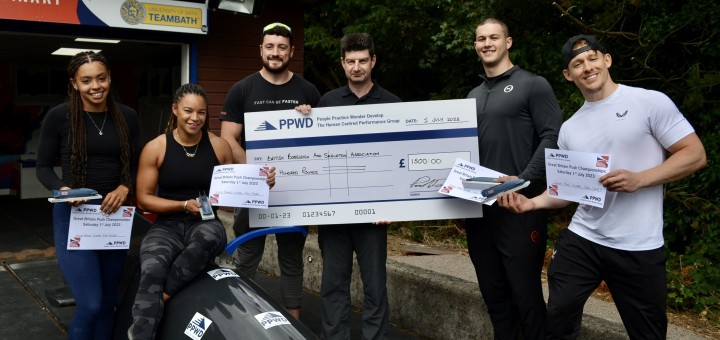 Greg Cackett and Mica Moore were crowned British Push Champions at the end of a hugely successful competition in Bath on Saturday.
More than 40 athletes took part in the final following a series of push events across the country, with Olympians Cackett and Moore winning the senior male and female categories respectively.
Austin Millward took the honours in the Men's Novice event and Kya Placide was the top Women's Novice with a superb effort effort that saw her finish as the third best female.
Greg Cackett & Mica Moore were victorious at the University of Bath
"The event was a huge success with some outstanding performances from both established and new athletes - it was exactly what we were hoping for," said British Bobsleigh Performance Director, Mark Silva.
"We saw a full day of testing in a competitive environment with male and female athletes producing some exceptional times and we're grateful to PPWD for their sponsorship of what we hope will become an annual event.
"In the men's competition, Greg Cackett, Nick Gleeson and Taylor Lawrence went toe to toe, with only one hundredth of a second separating them after the first push. Greg then produced a track record equalling 5.13 seconds on his second push to take the win and Nick was second with a very respectable 5.17.
"Mica Moore went almost a tenth of a second quicker than Olympic testing times from 2022 as she clocked the fastest female time recorded in Bath with a 5.80 second effort. Adele Nicoll was second with 5.88 and Kya Placide shone with a fine 5.90 despite having not yet been on ice.
"We're confident that what we've seen today shows that we're in a good place as a programme at this stage of pre-season."