McNeill & Douglas ready for World Champs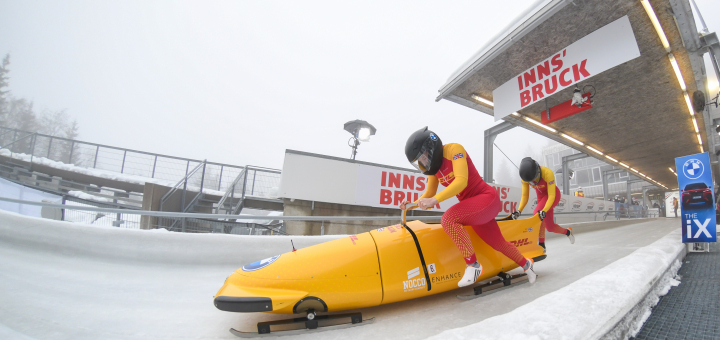 Mica McNeill and Montell Douglas kick off the IBSF World Championships this morning determined to make the most of the opportunity ahead of them in Altenberg.
The British pair start 11th in a 20-strong field at the showpiece event of the year on a track where they've had success together in the past.
They set a personal best in finishing fourth here in World Cup competition in January 2019 and they were eighth when the World Champs took place at the same venue 12 months ago.
They've since equalled that World Cup PB in Igls in December and, although recent results haven't hit those heights, they've shown they can mix it with the world's best.
Injuries throughout the squad, together with new equipment and a desire to get things right for the Beijing Olympics in exactly a year's time rather than for the here and now, has made it an up and down season so far but McNeill and Douglas are grateful to be racing and are all geared up for giving it their best shot over two days of stiff competition.
"We're really excited to race and, after such a hard year for everyone, we're really grateful to still have the opportunity to have a World Championships," said McNeill.
We're going to try and make the absolute most of it.
"It's been a tough season: we haven't had a full time physio and every one of us has been injured so trying to manage that and manage Covid has been tough - but we're going to go out and give it our best shot.
McNeill and Douglas finished fourth in Igls in December
"This is a prep year - next year's the important year. Everything is a learning curve. We're in a new sled and we've been learning set ups and runner choices for the different tracks and we've had the new discipline of monobob, so there's been a lot going on.
"But we'll give it our best shot and see what happens."
The World Championships are the only event outside of the Olympic Winter Games that feature four heats of racing rather than two, with the heats scheduled across two consecutive days.
Heats 1 and 2 begin at 9.30am GMT today (Friday), with the final two runs beginning at 1.30pm tomorrow (Saturday).
You can watch all the World Championship racing via the International Bobsleigh & Skeleton Federation website and on their YouTube channel.
We'll provide updates from the races via our own social media channels and we'll post a round up of results once they've come in.