Lawrence wins UKAF Award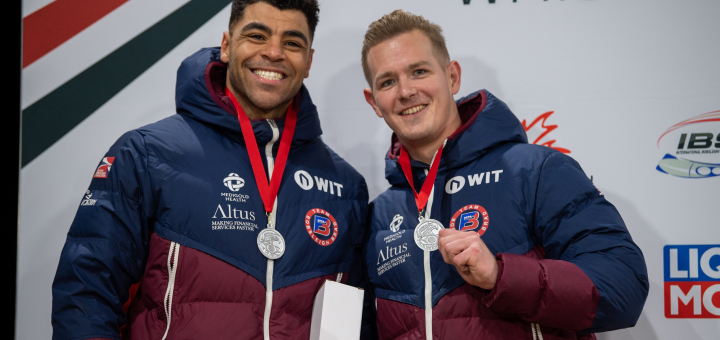 Taylor Lawrence has been named the UK Armed Forces Sportsman of the Year after a stunning season with British Bobsleigh.
Lawrence was part of both the 2-man and 4-man British crews who made history at the World Championships, European Championships and across the World Cup circuit during the 2022/23 campaign.
The 26-year-old Royal Marine won no fewer than 16 top tier medals, including GB's first World Championship 4-man medal since 1939; the country's first ever men's European Championship crown; and a trio of overall World Cup successes in 2-man, 4-man and combined competition.
He pushed Brad Hall to a podium place on four occasions in World Cup 2-man races and an incredible seven times in World Cup 4-man races - a tally that included three historic golds in Lake Placid and Altenberg (twice).
"This season has been absolutely phenomenal," said Lawrence.
"From losing funding back in 2018 to where we are today has been a real whirlwind but I've loved every single moment of it.
"We're back in training again now and we'll go away in October for pre-season before we go away again. It's a long season but I love it and wouldn't have it any other way.
I can't thank the Royal Navy and the Royal Marines enough for allowing me the time to pursue a career in bobsleigh.
"I hope that people in the Services can see what I'm doing and be inspired to get involved in not just bobsleigh but sport in general. Sport across the military is such a good thing to be involved in."
The award comes six months after Lawrence also won the Naval Service Sportsman of the Year on the back of a sixth-place finish in his debut Olympic Winter Games in Beijing and just three-and-a-half years after he first represented GB on the international stage.
Lawrence was one of two bobsledders to make the UKAF shortlist, with Jamaica's 2022 Olympic pilot, Shanwayne Stephens, also in the top three.
The Armed Services have long played an important role in the success of ice sports - and particularly bobsleigh - in this country and around the world. And, with the likes of Nick Gleeson, Adam Baird, John Stanbridge and a host of others joining Lawrence in competing for GB last season, Lawrence hopes that link continues and perhaps evens grows off the back of his and Stephens' success.
"It was good to see so many new people competing at the UKAF Ice Championships and, hopefully, we can bring them through from grassroots to the level that I'm competing at now," added Lawrence.
"Bobsleigh is such a niche sport and lots of people don't even know that bobsleigh is accessible in the military environment so to have two bobsledders shortlisted is amazing. These awards are often dominated by more well-known sports so this is great to see."