Kellyman takes up BEAA role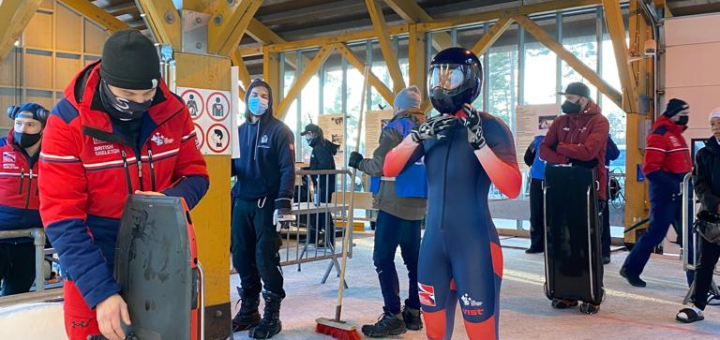 Milly Kellyman is swapping life as a skeleton slider for a new career with the British Elite Athletes Association (BEAA).
Kellyman leaves the programme to become Athlete Community Manager with the representative body for elite British athletes from more than 40 different sports.
The 29-year-old officially joined the British Skeleton programme in the summer of 2019 and competed on the Europa Cup circuit across the 2020/21 and 2021/22 seasons.
She won EC bronze in Igls in December 2021 and was never outside the top ten in her six appearances for her country.
"Being an athlete and getting to do sport for a living is literally what dreams are made of!" said Kellyman.
I am proud of my achievements within skeleton and for being able to live out my dreams and compete for my country.
"As much as Skeleton is an individual sport, what we go through as a team is unmatched and I will forever be thankful to my teammates who made this journey special. 
"Although I am gutted to be leaving something behind that I absolutely loved, I am super excited to still be involved with sport and ready to see where my next path takes me.
"The fact that this role is very people-focused and athlete-focused drew me to the job. Building those communities, bringing the athlete community together and empowering the athlete voice is what I'm really passionate about."
Milly Kellyman leaves the BBSA with an EC bronze medal to her name
"Milly has been an asset to the British Skeleton programme throughout her time with us," said British Skeleton's Performance Director, Natalie Dunman.
"She leaves knowing that she has achieved something that only a select group of people can claim to have achieved - winning a medal for her country on the international stage.
Milly has shone off the ice, too. Her attitude and work ethic were always hugely impressive, as was her ability to work well within a team, encouraging others to maximise their own potential.
"Her new role is an exciting one and we know she will make the most of it. Milly certainly has the attributes to become a real success story for the BEAA." 
Milly is a qualified teacher and taught in a primary school prior to starting skeleton and her new role will involve supporting athletes on a one-to-one basis, as well as working to bring the athlete community together as a whole.
One particular area of focus will be the BEAA's digital platform, with the ultimate aim of strengthening the athlete community and enhancing the BEAA's role in uniting Britain's elite sportspeople. 
"We're really delighted to have someone with Milly's skillset join the BEAA," said BEAA CEO Anna Watkins.
Milly's experience as an elite athlete equips her with an expert perspective into our members' lives, and her background in teaching will suit her well across her work with us.  
"This year, I want the BEAA to stand for athletes as a community, to bring all our members closer to us, and to ensure they feel part of a collective of current and former elite sportspeople. I have no doubt Milly will play a central role in achieving that."