In pics: special season for Hall & co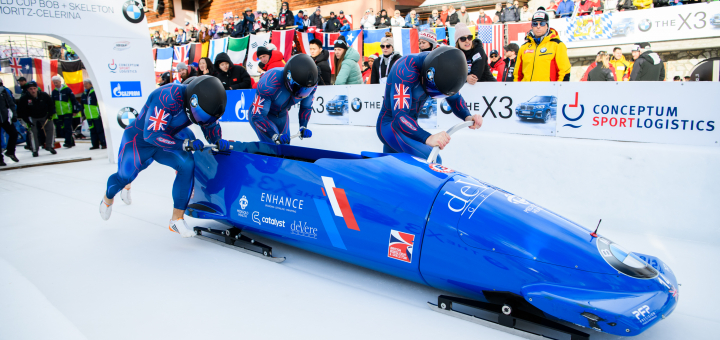 Last season was a pretty special one for Brad Hall and his crew and that's reflected in our selection of pics from the 2019/20 campaign.
Hall and his team-mates enjoyed a series of superb results in World Cup and World Championship competition as they shone in both 2-man and 4-man racing across Europe in January, February and March.
Greg Cackett pushed Hall to a first 2-man World Cup medal for Great Britain this millennium when they took silver in Igls and the pair finished the season ranked fifth in the overall IBF world standings.
And, while the 2-man medal may have been the standout result of the season, a seventh-place finish at the World Championships in the 4-man discipline can't have been far behind given the hurdles the team had been forced to overcome before Christmas.
Losing Sam Blanchet and Alan Toward to season ending injuries in December was a major blow and, with Hall himself also suffering with injury both before and after the New Year, the team faced a major battle just to make it to the start line in Altenberg three months ago.
New boys Luke Dawes and Taylor Lawrence stepped up to the plate in fine fashion, however, as GB finished just outside the wider podium places in the showpiece event of the year. Both Dawes and Lawrence only made their World Cup debuts in January - with Taylor only linking up with Hall and co at the last minute following those injuries to Blanchet and Toward - but they showed their potential in some style in Germany.
Throw in the fact that Cackett also only joined the team in the New Year after a spell in track cycling following the PyeongChang Olympics and it's no wonder Hall saw last season as a major success. 
"The season had some amazing results for a season filled with adversity," said Hall, who now has more than 50 World Cup appearances to his name as a brakeman and a pilot across both 2-man and 4-man.
"At times, it really looked like we weren't going to pull off a season at all: major injuries; no crew available; self-funded and running out of money all added to the failure melting pot. We believe lesser teams would've crumbled. But not us.
We are unbelievably proud of what we achieved this year. It's time to get excited about GB Bobsleigh again.
"We're winning medals. We've got our amazing sponsors and we are on a genuine track to glory at the next Olympic Games in 2022."
Did you know?
Hall and Cackett finished fourth in La Plagne the week before their stunning silver in Igls as they ended the season with four top-six finishes in six World Cup 2-man races.