Huge pride for Hall & co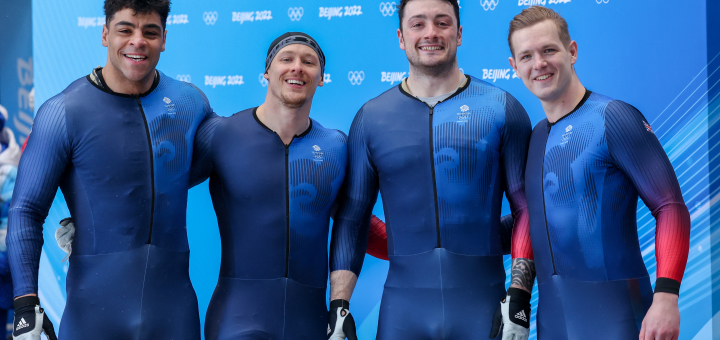 Brad Hall and his crew rightfully see Sunday's sixth-place finish at the Olympic Winter Games as something to be incredibly proud of despite the disappointment of missing out on a medal in China.
Hall, Nick Gleeson, Taylor Lawrence and Greg Cackett produced Team GB's best sliding performance of the Games in the final event of the Olympic fortnight.
The British quartet had hopes of a podium place after a stunning season that saw them win a hat-trick of 4-man medals on the World Cup circuit but Germany took gold and silver and Canada bronze in Beijing.
But while silverware would have been a fitting reward for their efforts this season and across the four-year cycle as a whole, Hall and co know that what they have achieved as a self-funded crew competing against traditional winter sports powerhouses during a global pandemic has been nothing short of extraordinary.
"I'm definitely very proud of the performance," said Hall, who hopes that funding will now follow their standout showings this season.
"We can hold our heads up high and know that our performance was good. We did the best we could and sixth place for a small nation that doesn't have its own ice track or much funding is definitely something to be very proud of.
It has been a long three or four years. A lot of people have helped us out along the way, which we are eternally grateful for. Hopefully, we made them all proud.
"The guys pushed incredibly well, with top two starts on Saturday, and I drove really well as well. There's so much potential left in this squad. I believe, if we get the backing that we need, then the sky's the limit and we will be consistently up there in the medals again. 
"We've got to wait and see what happens and I would love to take this team to new heights in the next few years. The lads have been on a journey and hopefully this isn't the end of it."
Greg Cackett experienced a mixture of emotions at the end of Run 4
Those sentiments were echoed by Cackett who, like Hall, was competing at his second Olympics after finishing 17th in the 4-man in PyeongChang.
"I've thought about it a lot and I feel a bit weird because we are competitors and we knew we could win a medal," added Cackett as he gave a typically honest post-race appraisal.
We've had a storming performance, though. I would say the bond that we've had and being able to pull together through our time being self-funded has been the real magic.
"To sign it off with a top six…is a great return. We've had a massive World Cup season which we can be proud of - when I look back and stop sulking!"
Did you know?
The GB crew were the second fastest starters in Runs 1 & 2 and the third quickest in Runs 3 and 4.
Only gold medalist Francesco Friedrich and his team recorded a better time off the top than the 4.88 seconds Hall, Gleeson, Taylor and Cackett put down in the second run.