Hall to miss start of season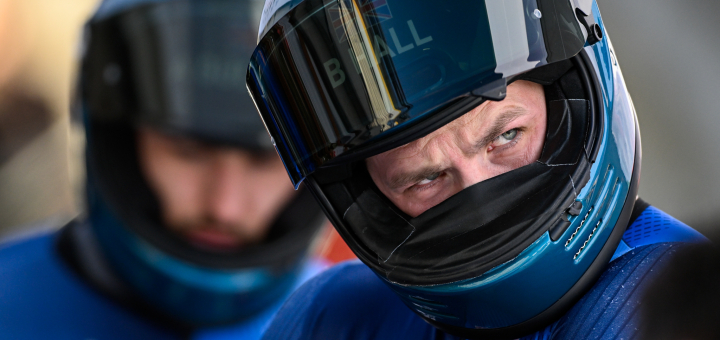 GB 1 Bobsleigh pilot Brad Hall will miss the start of the new sliding season due to a back injury.
The double Olympian will have a microdiscectomy to cure symptoms associated with a prolapsed disc and is expected to be unavailable for the first three races of the 2023/24 campaign.
Hall will therefore not travel to China for the opening competition in Beijing next month and will also sit out the two other pre-Christmas races in La Plagne and Igls.
The 32-year-old hopes to be fit to return to action in the New Year, with this season's primary focus having always been the World Championships in Winterberg from February 24 to March 3.
"I regret to say it but the team's and my season will be delayed this year due to me needing surgery," said Hall.
Over the past few months, I've developed quite severe sciatic pain in my right leg which has come from a significant prolapsed disc in my lower back. This has pretty much brought my training to a halt for some time now. We tried to manage it with injections and conservative therapy which brought some short-term success but that quickly diminished and now I'm left with no other option but to operate. 
"I'm no stranger to back pain - I've struggled with it for the last 16 years when this disc first prolapsed and I've had problems with it pretty much ever since, especially the last few years. As well as solving the nerve pain I currently have, I hope that it will bring about an opportunity to solve other problems which will allow me to train and be in my best shape for the next couple of years. 
"For now, I'll wait for my upcoming surgery to remove part of my disc and then concentrate on rehab to hopefully be back ready for the New Year. It's going to be a tough road ahead but this team is no stranger to adversity and we'll be back. 
"Until then, the remainder of the team will continue getting in shape and rehabbing their own injuries so they can pick up the slack for me and my jelly back for when it's time to hit the ice again! Thank you to my team mates, management, medical team, friends, family and everyone else close to me for the support and reaching out and fingers crossed for better days ahead!"
The GB1 team enjoyed a stellar season last time out
Hall guided his team of Greg Cackett, Arran Gulliver and Taylor Lawrence to the country's most successful non-Olympic season ever in 2022/23, winning a first World Championship 4-man medal for 84 years; taking the European title; and winning no fewer than 11 World Cup medals on the way to 2-man, 4-man and Combined Overall World Cup podium finishes.
The new bobsleigh and skeleton World Cup season kicks off on the weekend of November 17-19 with a return to the track that host the last Olympic Winter Games in Yanqing 20 months ago.
A further six races follow across Europe prior to the Winterberg World Championships, before the campaign concludes with a trip to Lake Placid in New York State in late March.