Hall happy despite injury issues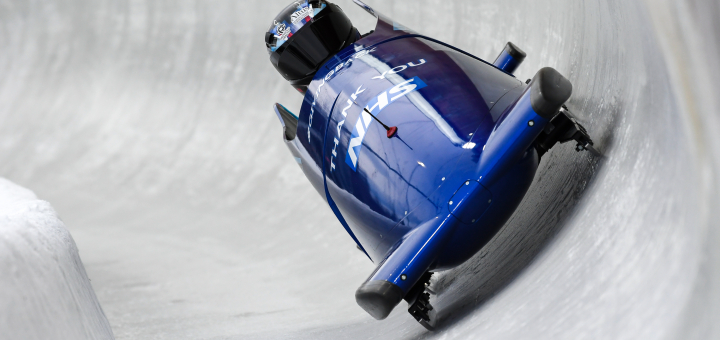 Brad Hall aims to build on last week's strong start to the season when he competes in back-to-back 2-man bobsleigh races in Igls today and tomorrow.
Hall finished seventh and then sixth alongside Nick Gleeson and Greg Cackett last Saturday and Sunday despite carrying a substantial ankle injury that saw him miss the opening two races of the campaign in Sigulda and prevented him from undertaking any meaningful training prior to race day in Innsbruck.
The 2018 Olympian had been unable to push a sled for all but the final lead up to last Saturday's competition yet he and Gleeson recorded the fourth best start times in both of Saturday's heats before he and Cackett backed that up with the sixth and seventh quickest starts on Sunday.
Hall was understandably happy with those stats and, while the injury is still far from fully healed, he believes he can keep the momentum going over the next two days.
"It was a frustrating start to the season missing the first couple of races in Sigulda because of the ankle injury. It still isn't fully healed so going into last weekend I didn't have any idea how I was going to perform," said Hall, who won an historic silver medal with Cackett the last time the World Cup stopped in Igls at the start of 2020.
"I hadn't pushed hard for about two months so I was worried that something might just go 'pop' when I put some effort in. 
The guys make fun of me all the time for hobbling around like a 90-year-old man and I spend most of my time just warming up on a WattBike that I borrowed from Vicky (Williamson) because I can't run in my warm up.
"It's a case of WattBike and a few easy lunges and then I'm straight into the start block as that's all I can really muster at the moment. 
"I'd been sitting in the sled for about two or three weeks before that so I was rusty from not having much physical training. It also meant my brakemen were rusty, too: Greg and Nick hadn't really pushed a 2-man sled hard all off season because they can't do that unless the pilot's doing the same thing. So they were out of practice as much as me.
"We know we've got the potential but we didn't know if we'd be able to produce it at this stage of the season given everything that's happened. But we managed to pull out some good pushes - much better than we thought. I was very surprised, with how we went, to be honest."
Brad Hall and his team were sixth and seventh last week
Hall teams up with Sam Blanchet today for the former England Sevens player's first taste of competitive action in a more than a year and his first World Cup appearance since January 2018.
Injury ended Blanchet's season early last time out but he has impressed in training since returning to the fold in the summer and his presence adds to an already competitive set up that also features Luke Dawes and Taylor Lawrence, as well as Cackett and Gleeson.
That strength in depth and internal competition is key according to Hall as he aims to be in the medal mix in both the 2-man and the 4-man at the Beijing Olympics in 14 months' time.
"That's the tactic we want to go at this year: we want a 4-man team where every single member can be competitive in the 2-man as well. The first weekend proved that we've definitely got two guys that can do that and now Sam is ready and raring to go on Saturday," added Hall.
"We're a very tight knit team. Spending so much time together because we lived together in the summer and then having a set team together has been massively beneficial for us.
"All the guys have been fantastic, on and off the ice - they've helped me massively in picking up all the slack for our sponsors and our charities. Greg's been great with all the social media stuff and Taylor's been great with all the cooking.
They've all taken lots of the pressure off me and allowed me to try and be in the best headspace I can for the race weekend. 
"It will be really interesting to see what we're capable of when these ankles finally sort themselves in the New Year. It bodes well for the future - when everything does fall into place, we should be able to achieve a lot more."
Fellow Brit Lamin Deen teams up with Ben Simons on Saturday, while Mica McNeill and Montell Douglas will be looking for more of the same on Saturday after their fourth-place finish at the same venue seven days ago.
Race schedule
All times GMT
Sat 19 Dec
Women's Bobsleigh 8.30am
2-man Bobsleigh 12.30pm
Sun 20 Dec
2-man Bobsleigh 9am