Gold & bronze for Skeleton duo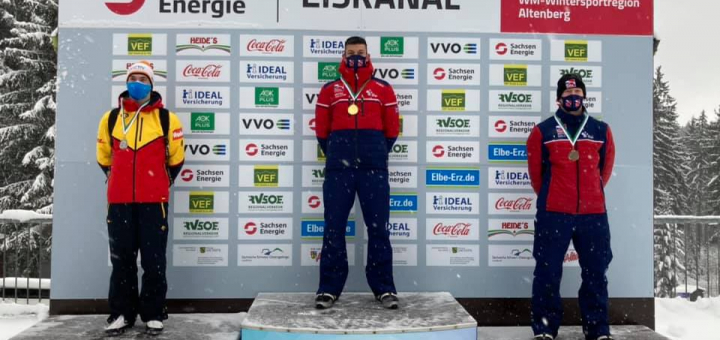 Matt Weston continued his superb season with a maiden gold medal in Friday's Europa Cup skeleton race in Altenberg.
Weston took top spot in Germany in his first race since his stunning silver medal on the World Cup circuit in Innsbruck just before Christmas.
The 23-year-old beat 30 other competitors in just his second season of international racing - a feat made even more impressive by the fact that it came on one of the sport's most difficult tracks.
A fine day for British Skeleton was made even better as Jerry Rice claimed bronze in the same race to ensure a brace of Union flags were on display at a venue where home dominance is so often a given.
The double success means the team have now won six medals so far this season, including at least one at each of the three Europa Cup meets to date.
Brogan Crowley finished sixth in the women's race, with Benji Fulker equal 10th and Jacob Salisbury 14th in the men's competition. Rachel Hanagan, who won bronze last time out, unfortunately didn't finish.
Altenberg hosts the first Intercontinental Cup race of the season this Saturday, with Fulker set to race again.
In the Europa Cup bobsleigh competition across the border in Austria, a trio of GB sleds produced significantly improved performances in Igls.
Axel Brown and Adam Hames finished 10th, with John Stanbridge and Alex Cortes-Tankard 16th and Adam Baird and Tom Milner 18th in a 28-strong field.
All three results were a big step forward from their last outing in Winterberg when they finished 23rd, 30th and 29th respectively.
The men's development teams now turn their attention to the final EC races in Konigssee in late February, while Felicity Bee and Emily Barrett are in action in the women's bobsleigh in Igls at 8am on Friday.