GB win first ever European bobsleigh gold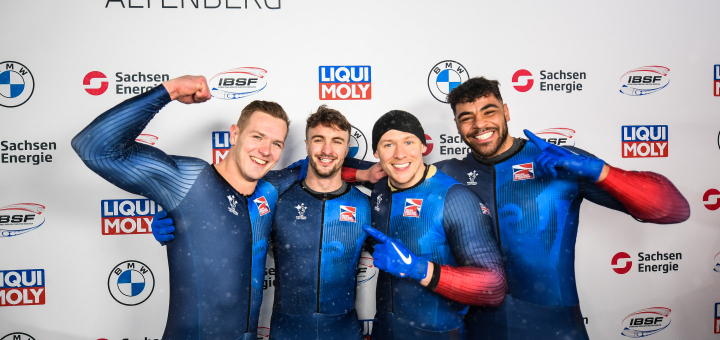 Great Britain won a first-ever European Championships gold medal in bobsleigh on Sunday afternoon as Brad Hall, Arran Gulliver, Taylor Lawrence and Greg Cackett triumphed in Altenberg.
GB had only ever won seven European Championship medals across all bobsleigh disciplines despite the event being a regular on the men's calendar since the 1960s but Hall, Gulliver, Lawrence and Cackett continued a simply stunning season with arguably the biggest win of their careers.
Having taken top spot in the same discipline at the same track seven days ago, the British team again saw off all three German Olympic medalists on home ice in a race that doubled as World Cup 6 and the continental championships.
They clocked a combined time of 1 minute 49.32 seconds to beat double Olympic gold medalist and six-time European Champion Francesco Friedrich by nine hundredths of a second, with newly crowned 2-man champion Michael Vogt 0.22 seconds adrift. 
After being the joint second fastest starters in Run 1 in 5.16 seconds, they produced an astonishing 5.10 start second time around to ensure they built on the two hundredths of a second lead they held at the halfway mark.
Hall then produced another outstanding drive despite the pressure of being the last sled off the top as he made light work of the snowy conditions and the partisan crowd at one of the toughest tracks in the world.
"It's an amazing feeling - it's probably the highlight of all of our careers," said Hall, who now has 17 World Cup medals to his name.
We've done something no British team has ever done before & that feels pretty special. We've made history and no one can take that away from us.
"We knew we could win here after doing it last week but to beat the Germans two weeks running at a track where they always dominate is incredible, really.
"The guys gave us two great pushes & I've felt like I'm getting better and better at driving the track. The 5.10 start they gave me in the second run was brilliant and we held it together all the way down in what were pretty tough conditions.
"We'll really enjoy this one - maybe pizza & a glass of champagne tonight (!) - but our focus is already on the World Champs. We go to Moritz in great form & want to keep the good feeling going."
GB stood atop a European Championship podium for the first time
Today's gold goes one better than GB's most recent European Championships bobsleigh medal, when John Jackson, Stu Benson, Bruce Tasker and Joel Fearon claimed silver in 2014 - the same year they won Olympic bronze in Sochi.
It means the team have now won nine top-tier medals this season, including three of the last four 4-man competitions following last week's win in Altenberg and December's success in Lake Placid in the United States, and it completes a remarkable weekend for British Bobsleigh & Skeleton after Matt Weston won men's skeleton gold on Friday.
It also sees them move joint top of the 4-man world rankings, level with Friedrich with two races to come on successive days in Igls on February 11 and 12.
Attentions now turn to the World Championships in St Moritz, with the 2-man competition scheduled for this coming Saturday and Sunday and the 4-man the following weekend.