All set for Konigssee & St Moritz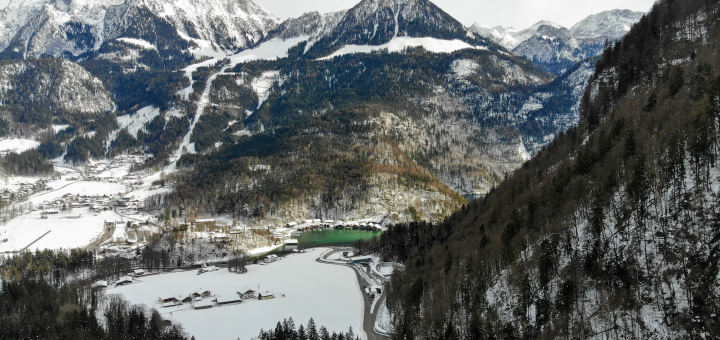 There's a busy weekend of bobsleigh and skeleton action on the cards as the World Cup circuit nears its conclusion in Konigssee and the world's best juniors gather in St Moritz.
World Cup 7 features British athletes in action on Friday, Saturday and Sunday in Bavaria, with the World Junior Championships including a pair of GB sliders in Switzerland on Saturday.
The British Skeleton team kick us off on Friday when Laura Deas and Brogan Crowley compete in the women's race at 9am GMT. Deas will be looking to build on her two top six results from four races to date this term, while Crowley is competing in the fifth World Cup event of her career and just her fourth race at Konigssee in all competitions. Madelaine Smith joins them in the line up, with Crowley starting second, Smith third and Deas sixth in a 21-strong field.
They face a tough task to break home dominance, however, with German sliders having won gold and silver at the last four World Cup races in Konigssee (plus a bronze for good measure in 2017). The last non-German winner was GB's own Lizzy Yarnold back in January 2015.
In the men's race at 12.30pm GMT, Craig Thompson, Matt Weston and Marcus Wyatt will look to continue their impressive seasons to date. Wyatt and Weston won bronze and silver medals in Sigulda and Igls before Christmas as the team made it multiple male medals in a single season for the first time since 2010 and Thompson has had fifth, sixth and seventh place finishes in three of his four races this season.
Saturday is an even busier day all round, with Ashleigh Pittaway and Laurence Bostock competing in the Junior Worlds at 8am and 12.30pm GMT while the World Cup competition continues in Konigssee. 20-year-old Pittaway won bronze in the same event last year, while 21-year-old Bostock was 16th in what was his debut race season.
The bobsleigh action begins with Brad Hall and Greg Cackett and Lamin Deen and Joel Fearon featuring in a 24-strong World Cup field from 11.15am GMT, before Mica McNeill goes in the women's mononbob at 3pm GMT. Fearon made his first World Cup appearance for GB since January 2018 in St Moritz last week, while Cackett again steps in for the injured Sam Blanchet and Nick Gleeson after Hall lost two of his brakemen to injury in successive weeks.
Sunday features the women's and 4-man bobsleigh as Victoria Williamson joins McNeill at mid-day after Deen and Hall pilot 4-man crews from 8.30am. Williamson will be making her World Cup debut following her switch from cycling last season, with injury having ruled her out of action in recent weeks.
You can watch all of this season's World Cup racing via the International Bobsleigh & Skeleton Federation website and on their YouTube channel.
We'll provide updates from the races via our own social media channels and we'll post a round up of results once they've come in.