GB look for 4-man repeat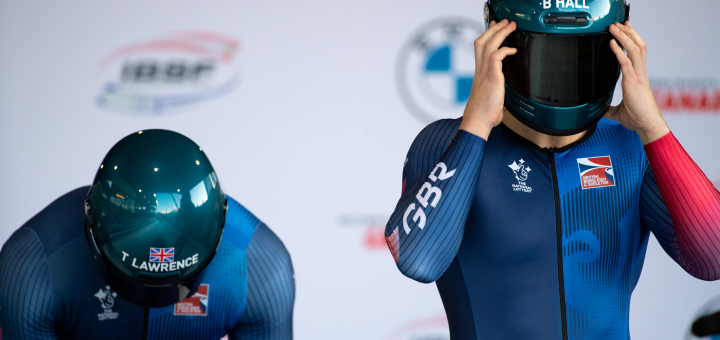 Brad Hall and Taylor Lawrence hope their superb silver medal in the 2-man bobsleigh World Cup in Whistler is a sign of things to come, starting tonight with the 4-man competition in Canada.
Hall and Lawrence finished second behind back-to-back Olympic Champion Francesco Friedrich in the season opener - Lawrence's first ever top-tier 2-man race.
The British pair clocked the quickest start time in the second heat and the second fastest in the first as they added to the six World Cup medals Hall and his crew won in 2021/22.
It bodes well for the rest of the Milan Cortina cycle but, just as importantly, for what's immediately ahead of them on the world's fastest track from 10.30 GMT this evening.
"Brad had two absolutely storming drives, with two storming pushes, and this hopefully puts us in a good position to move into the 4-man," said Lawrence, a serving Royal Marine who only made his GB debut in in late 2019.
"I'm over the moon with the result to come away with a silver medal in my first 2-man World Cup.
To have the second fastest push in the first heat and the fastest in the second is all you can ask for as a brakeman.
"It's been an amazing start for the whole programme with skelly doing so well on Thursday and we want to build on that medal tally tonight."
GB produced two outstanding starts in the first WC race of the year
Hall, who drove GB to sixth in the 4-man event at the Beijing Olympics nine months ago, was full of praise for Lawrence after he stepped up with push times of 4.78 and 4.79 seconds on his full 2-man debut.
He spoke highly of his team-mate's remarkable rise from complete novice to world-class push athlete in just over two years during the last Olympic cycle and he has already seen him take things to a new level this time around.
"Taylor's done exceptionally well, especially as it was his first major 2-man race. He's done great over the last few years and earnt his place in the 4-man sled and he just missed out on a 2-man race last season. He's come straight into the 2-man team this season and come away with the fastest push in the second heat, and you can't do more than that," added Hall.
We're extremely happy with the result. We would have loved to have won it but we put down two tremendous starts and two great drives so I don't think we could have asked any more of ourselves, especially in the first World Cup race of a new Olympic cycle.
"We've been out in Whistler for a long time now and it's been tough being at one track for so long. It gets tough as a pilot to keep the track interesting and keep your focus. But we took a number of days off as I was sick over the last 10 days so we haven't done as much sliding recently and that was probably a good thing - it allowed me to refocus and we've come away with a second place.
The boys are really excited to get going in the 4-man now. Hopefully we can have just as fast starts and another two good drives and be on the podium again.
"I also want to say a massive congratulations to all the boys and girls in the Skeleton programme. They did phenomenally well to come away with three medals in two races. It's great that we've been able to add to that medal tally and hopefully we can increase it even more in the 4-man."
Greg Cackett and Arran Gulliver join Hall and Lawrence in the 4-man race this evening, with coverage on the IBSF YouTube channel and website. The circuit then moves on to Park City, Utah followed by Lake Placid in New York State, with the European leg of the season coming after Christmas.