GB crews ready for bob restart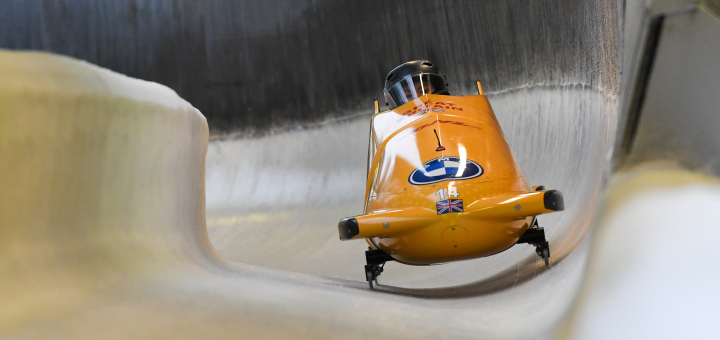 The first bobsleigh action of 2021 features two British crews as Mica McNeill and Brad Hall go for GB in Winterberg on Saturday.
McNeill and Montell Douglas begin the 2021 race calendar at 9am GMT, before Hall and Nick Gleeson follow suit from 1pm.
It follows a tough Christmas period after McNeill, Douglas, Hall and Sam Blanchet all opted to stay in Germany rather than return home to their families once the travel ban was announced after the last World Cup race in Igls.
Blanchet has since picked up an injury that rules him out of this week's competition but both teams had strong results pre-Christmas and, despite numerous injury and Covid-19 setbacks, coach Matthias Bohmer believes they are in a good position to kick on in the new year.
"It was very hard for us to bring everyone back out here but, in the end, we managed it, and we're very happy about that. It's been a long time away from home for the guys who stayed over here at Christmas but it will be worth it if we can get some good results this weekend," said Bohmer.
"It's very snowy here - it's a winter wonderland in Winterberg - but we've had some good training.
"The injury to Sam is disappointing but we are in a good place and we're really looking forward to the first 4-man race of the season.
"I believe there's a top six place for Mica and the same for the 2-man and 4-man, if we get things right."
After the two opening races of the season in Sigulda, McNeill and Douglas already have a fourth-place finish to their name from the back-to-back events in Igls, while Hall and Gleeson were seventh and eighth in their first two outings together since their famous joint fourth at the 2019 World Championships in Whistler.
Greg Cackett and Taylor Lawrence join Hall and Gleeson for the first World Cup 4-man race since February at 9am on Sunday. 
Fellow Brit Lamin Deen hasn't headed to Winterberg and is instead training in Igls ahead of next week's World Cup action in St Moritz, Switzerland.
You can watch all of this season's World Cup racing via the International Bobsleigh & Skeleton Federation website and on their YouTube channel.
We'll provide updates from the races via our own social media channels and we'll post a round up of results once they've come in.