Fifth for Hall & Gleeson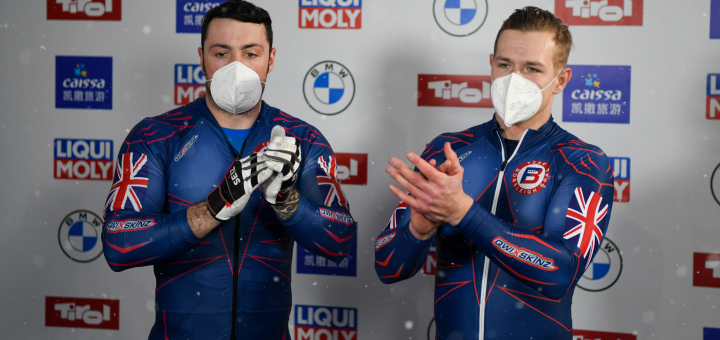 Brad Hall's superb start to the new season continued with a fine fifth-place finish in the 2-man bobsleigh on Saturday.
Hall claimed 2-man bronze with Greg Cackett and 4-man silver with Cackett, Nick Gleeson and Taylor Lawrence last week in the opening round of World Cup action.
He and Gleeson followed those successes with another strong showing in Igls as they claimed a wider podium place in a time of 1 minute 44.22 seconds.
The British pair were the fourth best starters in the opening run in what was just Gleeson's fourth 2-man appearance since his history-making joint-fourth with Hall at the World Championships in Whistler back in February 2019. The result was Gleeson's best World Cup 2-man showing in a total of 11 attempts over the past four years.
Hall, Cackett, Taylor Lawrence and Sam Blanchet then finished 11th 24 hours later in the 4-man in a time of 1 minute 42.66, with Blanchet racing for the first time in almost a year. The former England Sevens rugby player ruptured his Achilles in St Moritz in January and spent the summer recovering after undergoing surgery late last season.
Lamin Deen, Toby Olubi, Ben Simons and Joel Fearon finished 20th in the same race after clocking 1.43.12, with Deen and Olubi having come 26th Saturday's 2-man following a breaking issue in the closing stages.
Germany's Francesco Friedrich made it six wins from six so far this season as he matched last week's double 2-man and 4-man gold, having also won the Olympic Test event in both disciplines in Beijing.
Adele Nicoll raced for the first time with Mica McNeill
In the women's events, Adele Nicoll made her GB debut as she finished 20th in with Mica McNeill on Sunday morning.
Nicoll had previously earned international recognition in the shot putt and has already qualified for the 2022 Commonwealth Games but this was her first taste of race action in bobsleigh after a season as a reserve.
McNeill also raced in the women's mono bob on Saturday when she finished 18th in a race won by America's Elana Meyers Taylor. Germany's Laura Nolte won the women's bobsleigh on Sunday.
The circuit now moves on to Altenberg in Germany, the venue for both the 2020 and 2021 World Championships.