Excitement rises as we hit 100 days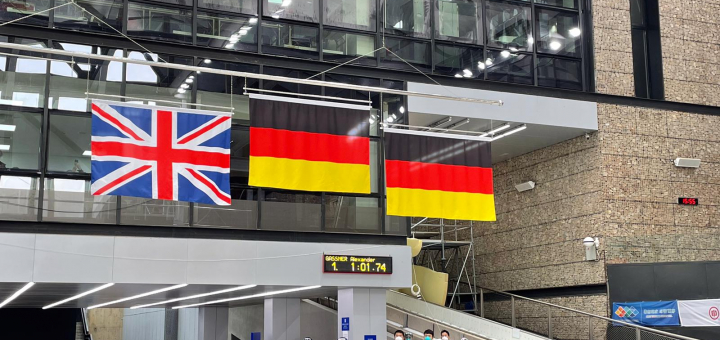 With just 100 days to go until the Olympic Winter Games, two of the central figures for the British Bobsleigh and Skeleton teams on the journey to Beijing believe both sports are in a position to pounce for podium places in February.
Bobsleigh pilot Brad Hall and British Skeleton's Performance Director Natalie Dunman tasted medal success in China earlier this week and they now have their sights on a similar story when they head back to Beijing next year.
Hall, who won silver with Greg Cackett at the Beijing Test event on Monday, feels things are finally coming good for his team after a wretched run of bad luck over the past 12 months.
"We had so much bad luck last year - everything that could have gone wrong went wrong and we had so many injuries throughout the team," Hall, who lost the likes of Sam Blanchet and Nick Gleeson to injury whilst also suffering setbacks himself last season, told TeamGB.com.
"We actually got a lot of sympathy from the rest of the bobsleigh community because of just how much bad luck we had. We should have had some really spectacular results.
Now it seems we are really starting to get the ball rolling. We feel that, this year, we are ones to watch.
"We should be up there fighting for the podium positions once we have a clean stretch and we're looking really good going into the new season. 
"We're looking to go to this Games not as participants but as real medal contenders and we're all extremely focused and willing to do whatever we need to do to get there."
Hall and Cackett hope to have more reasons to smile this season
While Hall and Cackett were preparing for their silver medal winning run on their first race at the Olympic track, Dunman and her coaching team were already celebrating guiding Marcus Wyatt to the same colour medal a few hours earlier.
Wyatt, who won his maiden World Cup silverware in Sigulda last season, produced a superb performance to prevent a German clean sweep of the podium and Dunman says that showcase result has given the team a real confidence boost ahead of today's journey home.
"We're in a good place as we head into the season and we're excited about the potential of the team," said Dunman, whose team won three World Cup medals last term.
We had some great success on the men's circuit last season and Marcus' silver medal here has added to everyone's belief in what we're capable of.
"We've also had some really promising training performances from the other athletes and they'll all be taking some really good learnings back with them.
"When I started with the team, the Games were always our focus but they also seemed a long way off in some regards. That's now definitely not the case - they are just around the corner and I think the next three-and-a-half months will fly by. 100 days to go certainly makes thing seem very real.
Dunman saw Marcus Wyatt win silver in the men's skeleton
"Markers like this always raise the excitement levels - no matter whether it's 500 days, 100 days or 10 days - but this one feels really prominent because we've been out in Beijing for the last three weeks and have just had our first real taste of what's to come in February. 
"Being here and experiencing the track and the environment for the first time has reminded everyone exactly what this season is all about - being at our best when we come back to Beijing early next year. The overall feeling is one of excitement now. This is why we are all in the sport. 
"We know that this isn't the time to relax, though - every one of the next 100 days is vital if we want to perform at our best in February."