Deen upgraded to historic gold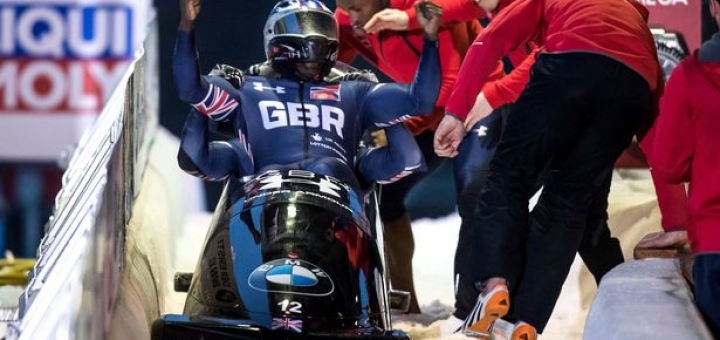 Lamin Deen, Ben Simons, Toby Olubi and Andrew Matthews have made history after they were retrospectively upgraded to a World Cup gold medal in the 4-man bobsleigh.
Deen and his team originally won silver in Whistler in November 2017 but they have now been confirmed as race winners after the disqualification of Russia's Alexander Kasjanov for a doping offence.
The result is Great Britain's first-ever 4-man World Cup gold medal.
Deen's crew clocked a combined time of 1 minute 42.17 seconds to take top spot ahead of multiple World Cup and World Championship medalist Nico Walther from Germany and Canada's 2018 Olympic Champion, Justin Kripps, having set a then world record speed of 97mph in the first run.
Deen also receives a second upgrade in light of the removal of Kasjanov's results, as he, Matthews, John Baines and Joel Fearon are now rightfully listed as bronze medal winners at Lake Placid in January 2016.
"It's fantastic to see that Lamin, Ben, Toby and Andrew have been upgraded to race winners - it's a huge achievement and something they should be incredibly proud of - as we all are" said BBSA Chair, Joanna Poulton.
Winning a gold medal is something that very few athletes get to experience and, while it's disappointing that they didn't get to stand on the top step of the podium at the time, it's good to know that they are now being recognised for that achievement.
"We have written to the IBSF (International Bobsleigh & Skeleton Federation) requesting that they - and the team that won bronze in Lake Placid in 2016 - receive new medals as a matter of priority.
"Lamin has achieved a great deal during his bobsleigh career and is on his way to a third Olympic Winter Games but to now officially be able to call himself a World Cup gold medalist is something very special. Ben and Toby are also competing for places at the Beijing Olympics in February so have time to add to their own medal tally but Andrew hasn't been involved since Pyeongchang so it's particularly pleasing to see him get this upgrade. 
"The result is also a historic for one for the country and it's testament to the work Lamin and his crew and the coaching team put in throughout the 2017/18 season, which was one of the best on record for the British programme."
Andrew Matthews, Ben Simons, Toby Olubi and Lamin Deen have made history
"Being the first to do anything is fantastic so there's a feeling of satisfaction and of pride," said Deen who competed at the Olympic Winter Games in 2014 and 2018 and piloted GB to a fifth-place finish at the 2015 World Championships.
I was proud of myself and my team on the day regardless after breaking the track record, setting the world speed record and winning silver but to now know it's gold makes it even more memorable.
"Whistler is one of the hardest and most demanding tracks in the world so to do it there makes it even more special.
"My crew did a great job and it felt like we got everything right that week. From the first run down the hill to the drills we did in the evening in the garage, we just got it right and were really in sync as a team. I also want to give praise to the staff that were there at that time as well because they played their part and made it easier for us.
"It'll go down in history but it's also a huge boost moving forward. I know it was a few years ago now but it shows that the top step of the podium is possible. Hopefully we can replicate that in the coming season and at the Olympic Games."
Deen, Olubi, Simons and Matthews had also been on the wider podium in Park City a week prior to their gold medal when they finished sixth, with Brad Hall, Bruce Tasker, Fearon and Greg Cackett winning bronze in that race.
The bobsleigh calendar begins again in November, with Deen - who now has more than 210 international races to his name - set to feature in what will be his 17th season of competition.