Deas wins World Cup silver in Sigulda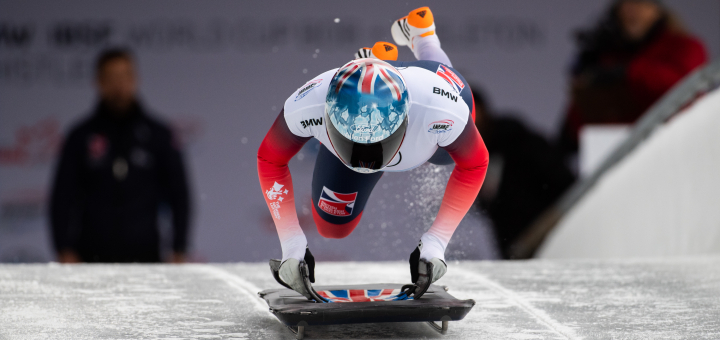 Laura Deas won World Cup silver in Sigulda on Friday afternoon to round off a sensational season for British Skeleton.
Deas registered her best World Cup result for eight years just hours after Matt Weston and Marcus Wyatt won gold and silver in the men's event at the same track.
The 2018 Olympic medalist clocked a combined time of 1 minute 43.70 seconds in the final top tier race of the season to better the bronze medal she won in Park City in the second competition of the campaign back in December. 
Deas sat fourth at halfway but came within a whisker of a second ever World Cup gold as she finished just five hundredths of a second behind race winner and overall World Cup winner Tina Hermann in Latvia. The result was the 34-year-old's best in World Cup competition since she won gold in Altenberg in November 2015.
"I'm really, really happy with the race today. It was an exciting one and could have gone either way at the end," said Deas.
I'd have loved to have won but this is still a fantastic way to finish the season.
"It's great to feel like I can be this competitive even when my runs aren't perfect. I haven't felt that way for a long time. 
"It was also good to feel so competitive on the push as well.
"It's been a very long season and very demanding in a lot of different ways but I'm extremely proud to be finishing it in this way."
Team mate Brogan Crowley occupied the last of the medal spots after the first run but slipped back to eighth place after Run 2 in a time of 1.44.22.
Deas' silver in Sigulda takes the team's tally to 13 medals in eight World Cup competitions this season, with Deas, Crowley, Weston and Wyatt all making the podium between November and now. And that's in addition to the three they won at the World Championships in St Moritz where Deas picked up team silver with Weston while Crowley and Craig Thompson took bronze after Weston had won individual gold.
It also comes on a day where British Skeleton saw medal success on the Intercontinental Cup and Europa Cup circuits, plus the U23 Junior European Championships and the U20 Junior European Championships and in the overall World Cup and Europa Cup competitions. The squad won an incredible 15 medals today and have a chance of more in the ICC finale in Igls tomorrow.