Deas announces pregnancy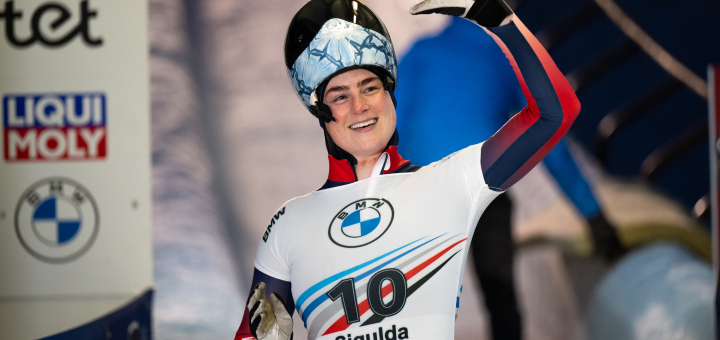 Laura Deas will miss the new skeleton season after announcing that she is expecting a baby.
Olympic bronze medalist Deas and her husband, Rich, will welcome their first child this spring.
The 35-year-old, who stood on the Olympic podium alongside team-mate Lizzy Yarnold in PyeongChang in 2018, won silver in Sigulda in the last World Cup race of last season but won't take part in any of this season's competitions.
"My husband and I are delighted that we are expecting a baby, due in the spring," said Deas.
It will feel very strange for me to be missing this competition season, having raced the previous 13 years consecutively on the IBSF international circuit.
"Although it will be a very different experience for me this winter, I'll still be following the sport closely and supporting my team mates as much as I can."
Deas made her debut for Great Britain back in 2010 and has more than 120 race appearances to her name.
She was a World Championship silver medalist in the team event in St Moritz in January and has now won 23 medals for her country, including that silver in Sigulda last time out and bronze in Park City in December.
'We're really pleased for Laura and Rich and are sure they will make wonderful parents," said Natalie Dunman, Performance Director for British Skeleton.
"While she won't be competing this season, Laura will continue to be a presence at our headquarters in Bath and she'll be supporting the team in a number of different ways throughout the year."
Fellow Olympian Brogan Crowley has also decided to step away from racing this season. The 29-year-old, who won team bronze with Craig Thompson at the most recent World Championships, is taking a break from the sport and won't be competing in 2023/24.
This season's competition kicked off in Beijing earlier today (Friday) when Amelia Coltman competed for GB, with the circuit now heading to Europe for the second race of the season in La Plagne on Friday, December 8th.