Dasaolu to make World Champs debut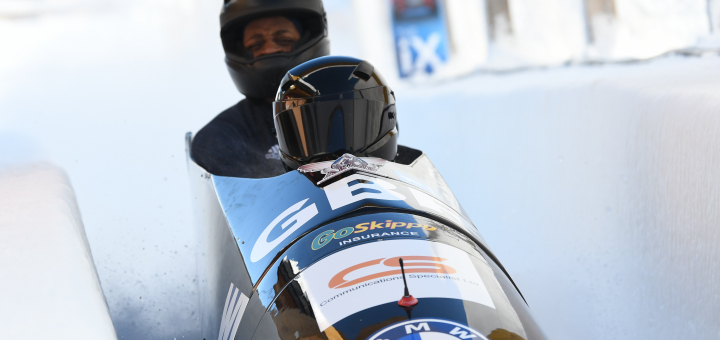 James Dasaolu will make his World Championship debut when he teams up with Lamin Deen on Saturday morning.
Dasaolu competes in the 2-man bobsleigh in Altenberg, Germany from 9am GMT, with the four-heat season showpiece concluding on Sunday afternoon.
His selection is the latest landmark in an impressive transition from athletics to bobsleigh and it comes just three months after he first stepped into a sled and just nine weeks since he made his racing debut.
A World Championship appearance so early in his bobsleigh career is a significant stepping stone as he aims to add an Olympic Winter Games appearance in Beijing 2022 to his selections for the Summer editions in London 2012 and Rio in 2016. 
The 33-year-old, who is the second fastest British sprinter of all time and still hopes to qualify for the Tokyo Olympics this summer, currently has six World Cup appearances to his name, with three of those coming in the 2-man discipline. 
By linking up with Deen, Dasaolu is joining forces with a pilot with almost unrivalled experience in the sport. And the Grenadier Guardsman, who is all set for his eighth World Championships, is looking forward to seeing his new team-mate step up on to the big stage.
"We're looking forward to the race and to continuing developing James. He's still got a long way to go but he's really enjoying the sport and that's the main task to start with," said Deen, who admits his best chance of being in the mix comes in next weekend's 4-man event when he links up with Dasaolu, Ben Simons and Joel Fearon.
This will be his first World Championships but he's looking forward to the journey all the way through to the Games. 
"2-man isn't my strongest discipline but I've been working tirelessly to try and improve. I've been workig on getting the feeling because a lot of the 2-man is about feeling – you can't over steer to much – whereas the four-man is more about accuracy. We're going to give it our best and then we'll look forward to next week and the 4-man."
Fellow Brits Brad Hall and Greg Cackett also go for GB in the 2-man race and you can read our preview with Hall here.
You can watch all the World Championship racing via the International Bobsleigh & Skeleton Federation website and on their YouTube channel.
We'll provide updates from the races via our own social media channels and we'll post a round up of results once they've come in.